Best Presidents In History - 2008 Harris Poll
Harris Interactive conducted an
online poll
within the United States last month. They asked over 2000 adults: Which one of the following presidents do you think was the best overall president in our history?
The list included all presidents since Franklin Roosevelt, along with some of the more famous from earlier in American history – George Washington, John Adams, Thomas Jefferson, Andrew Jackson, Abraham Lincoln, Theodore Roosevelt, Woodrow Wilson and Calvin Coolidge.
Scores were tallied by adding the percentage of those who answered "best" and "second best" for each president. Among modern leaders, Ronald Reagan ranked highest, but even his cache could not compete with the mighty Abe Lincoln, who was named the top president by 20 percent of those surveyed.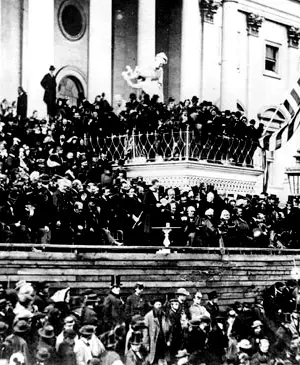 Abraham Lincoln, who is at the center of this rare photo, delivers his inaugural address from the Capitol's east portico.
Here are the results:
Abraham Lincoln
Ronald Reagan
Franklin Roosevelt
John Kennedy
George Washington
Bill Clinton
Thomas Jefferson
Harry Truman
Theodore Roosevelt
George W. Bush
Dwight Eisenhower
Jimmy Carter
Richard Nixon
George H.W. Bush
Lyndon Johnson
Gerald Ford
John Adams
Andrew Jackson
Woodrow Wilson
Calvin Coolidge
Posted by Michael McKinney at 12:02 AM
Permalink | Comments (0) | This post is about Leaders