Do You Want to Change the World?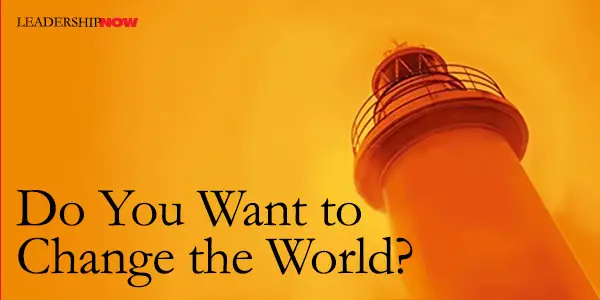 JAMES KOUZES and Barry Posner are the authors of the classic The Leadership Challenge. In A Leader's Legacy, they make an important point about leadership and passion:

When people talk about leadership, they often use the word passion. And when we think about passion we tend to think of emotions like enthusiasm, zeal, energy, exuberance, and intensity. Well, all those attributions might be true, but when you look up the word passion in any dictionary that includes origins you'll see that it comes from the Latin word for suffering. Passion is suffering! A passionate person is someone who suffers and a compassionate person is someone who suffers with, and shares the suffering of, others—and wants to take action to alleviate this condition. Nearly every act of leadership requires suffering—and often for the leader a choice between one's personal success and safety and the greater welfare of others. We're asking you to understand that nothing great comes without costs.

"If you want to be a leader, you must be willing to pay a price. By sacrificing, you demonstrate that you're not in it for yourself. This sends the message, loud and clear, that you have the best interests of others at heart.

"The most significant contributions leaders make not to today's bottom line but to the long-term development of individuals and institutions that adapt, prosper, and grow. People should never take the job of leadership if they're unwilling to see beyond their own needs. If they do, they will ultimately fail."
* * *


Like us on
Instagram
and
Facebook
for additional leadership and personal development ideas.
* * *


Posted by Michael McKinney at 01:27 PM
Permalink | Comments (0) | This post is about Leadership