A Leader's Legacy
James M. Kouzes and Barry Z. Posner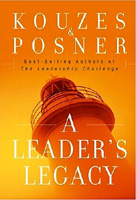 Format:
Hardcover, 208pp.
ISBN:
9780787982966
Publisher:
Jossey-Bass
Pub. Date:
August 18, 2006
Average Customer Review:


For Bulk Orders Call: 626-441-2024

Description and Reviews
From
The Publisher:
"By asking ourselves how we want to be remembered, we plant the seeds for living our lives as if we matter. By living each day as if we matter, we offer up our own unique legacy. By offering up our own unique legacy, we make the world we inhabit a better place than we found it." —From the Introduction
In this provocative book, leadership experts and authors of the best-selling
The Leadership Challenge
Jim Kouzes and Barry Posner take on a unique challenge and explore the question of leadership and legacy.
Kouzes and Posner examine in twenty-two chapters the critical questions all leaders must ask themselves in order to leave a lasting impact. These powerful essays are grouped into four categories: Significance, Relationships, Aspirations, and Courage. In each essay the authors consider a thorny and often ambiguous issue with which today's leaders must grapple—issues such as how leaders serve and sacrifice, why leaders need loving critics, why leaders should want to be liked, why leaders can't take trust for granted, why it's not just the leader's vision, why failure is always an option, why it takes courage to "make a life," how to liberate the leader in everyone, and ultimately, how the legacy you leave is the life you lead.
A Leader's Legacy
is Kouzes and Posner's most personal and compelling work to date. They focus on the core challenges leaders face and offer up a thoughtful and reassuring perspective any leader—or aspiring leader—can use to explore the choices they make as they walk their path to greatness.

Reviews
"Jim Kouzes and Barry Posner have done it again! In a brilliant follow-up to
The Leadership Challenge
, they offer the combined wisdom of decades of studying and working with leaders. In 22 thoughtful essays they summarize with depth and clarity what is really important for you as a leader: your courage, your relationships, and the legacy you leave behind."
—Bill George, former chairman and CEO, Medtronic; author, Authentic Leadership
"This superb book defies conventional wisdom in favor of being truly wise. In chapters such as 'Leaders Should Want to Be Liked' and 'Failure Is Always an Option,' Kouzes and Posner portray leaders on a human scale, opening leadership to anyone who is willing to be fully human. That, of course, is a challenge! And yet the style of this book—with its stories of well-grounded leaders and its engaging conversational prose—encourages the reader to live into and up to that challenge.
A Leader's Legacy
will surely become key to the literary legacy that its authors have been leaving in their wake over the past twenty-five years."
—Parker J. Palmer, author, The Courage to Teach, A Hidden Wholeness, and Let Your Life Speak
"In their new book, Kouzes and Posner provide a badly needed supplement to all those other books on leadership. First, they don't just say that everyone can be a leader—that oft-repeated bromide is little more than a cliché now. They demonstrate (with good examples) how true and important the idea is. And second (again with effective examples) they make 'leadership' something that will interest not just 'organizational' types but anyone who hopes to make a difference in the world."
—William Bridges, author, Transitions and Managing Transition
"
A Leader's Legacy
is an indispensable daily reference for leaders at every level of every enterprise. Legacy is a gift to leaders of today, to leaders of the future."
—Frances Hesselbein, chairman, Leader to Leader Institute


Reader's Index
Send us your favorite quotes or passages from this book
.
• "Legacy thinking means dedicating ourselves to making a difference, not just working to achieve fame and fortune. It also means appreciating that others will inherit what we leave behind." Pg. 5
• "We can never take trust for granted. We have to earn it, build it, and sustain it every day." Pg. 179 Peter Balili from La Verne, CA

About the Authors
Jim Kouzes
is an Executive Fellow at the Center for Innovation and Entrepreneurship at the Leavey School of Business, Santa Clara University.
Barry Posner
is dean of the Leavey School of Business and professor of leadership at Santa Clara University.
Jim Kouzes and Barry Posner are authors of the award-winning and best-selling book The Leadership Challenge, as well as the widely used Leadership Practices Inventory (LPI).

Table of Contents
| | | |
| --- | --- | --- |
| | Introduction | 1 |
| | | |
| | Part One: Significance | 9 |
| 1 | Leaders Serve and Sacrifice | 12 |
| 2 | The Best Leaders Are Teachers | 20 |
| 3 | We All Need Loving Critics | 27 |
| 4 | You Are the Most Important Leader in Your Organization | 33 |
| 5 | No One Likes to Be an Assumption | 40 |
| | | |
| | Part Two: Relationships | 47 |
| 6 | Leadership Is Personal | 50 |
| 7 | Leaders Should Want to Be Liked | 56 |
| 8 | When You Don't See Eye to Eye, Seek to Understand | 62 |
| 9 | You Can't Take Trust for Granted | 71 |
| 10 | Let Your People Go | 79 |
| | | |
| | Part Three: Aspirations | 89 |
| 11 | Lead from the Inside Out | 92 |
| 12 | Forward-Looking Is a Leadership Prerequisite | 99 |
| 13 | It's Not Just the Leader's Vision | 107 |
| 14 | Liberate the Leader in Everyone | 114 |
| 15 | Leaders Are Followers, Too! | 122 |
| | | |
| | Part Four: Courage | 131 |
| 16 | There's Courage in All of Us | 134 |
| 17 | You Can't Plan to Be Courageous, But You Can Choose It | 141 |
| 18 | It Takes Courage to Make a Life | 148 |
| 19 | The Courage to Be Human | 155 |
| 20 | Failure Is Always an Option | 163 |
| 21 | No Money-Back Guarantee | 170 |
| | Afterword: The Legacy You Leave Is the Life You Lead | 177 |
| | | |
| | Notes | 183 |
| | Acknowledgments | 187 |
| | About the Authors | 191 |
| | Index | 195 |

Find Items On Similar Subjects

A Leader's Legacy
Audiobook

The Leadership Challenge
: Fourth Edition - Paperback

The Leadership Challenge
: Fourth Edition

The Leadership Challenge Workbook

Credibility
: How Leaders Gain and Lose It, Why People Demand It •
Revised Edition

Your Leadership Legacy
: Why Looking Toward the Future Will Make You a Better Leader Today