How to Develop Integrative Thinking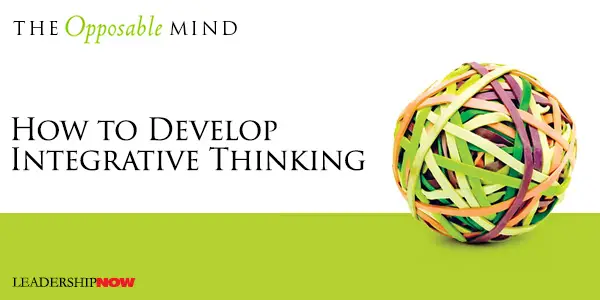 A 2007 study (PDF) conducted by the Center for Creative Leadership found that nearly 92 percent of the executives surveyed believe the challenges their organizations face are more complex than they were just five years ago. Organizations will continually be asked to do even more with less and respond even faster to changes in their industry and economy.
Complexity is not going to go away, but developing the skills necessary for integrative thinking as described by Roger Martin in The Opposable Mind (the ability to hold two conflicting ideas in constructive tension) can be an effective way to keep from being sidelined by it. "Integrative thinking is largely a tacit skill in the heads of people who have cultivated, knowingly or otherwise, their opposable minds."
How do we develop integrative thinking? First, we begin by thinking about how we think. Martin writes, "When you refuse to take your thinking for granted, you give yourself the best opportunity to enhance and utilize your opposable mind to its fullest."
By taking a look at your personal knowledge system – how you know what you know – you can get some insight into how you make decisions. Martin has defined three areas, as shown in the diagram below, that guide and inform each other as your experiences grow.
Stance: How you see and interact with the world; your philosophy. Martin lists six important ways of looking at the world and self.
Tools: Integrative thinkers use generative reasoning (asking what might be instead of what is), causal modeling (considering not only linear and unidirectional relationships but nonlinear and multidirectional relationships as well) and, what I found helpful, assertive inquiry (not argumentative, but pointed questions seeking to find common ground). [Note: There is a great example beginning on page 159 in this regard.]
Experiences: Your stance directly affects the kinds of experiences you will accumulate. Structured repetition of a consistent type of experiences develops mastery. Combined with originality, mastery will help you to grow.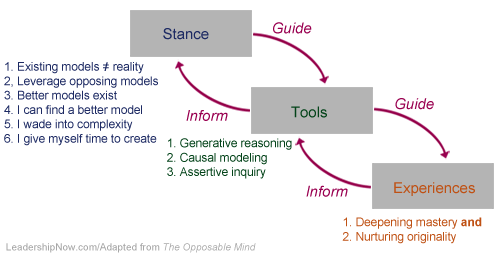 With an understanding of how these areas interact with each other, you can, over time, take an active role in crafting your personal knowledge system. Martin has packed into a short book, a good primer on developing a mind that can grapple with complex issues and find creative solutions that would otherwise be missed. It's well worth your time.
* * *


Like us on
Instagram
and
Facebook
for additional leadership and personal development ideas.
* * *


Posted by Michael McKinney at 12:08 AM
Permalink | Comments (0) | TrackBacks (1) | This post is about Problem Solving , Thinking