Roger Martin on Assertive Inquiry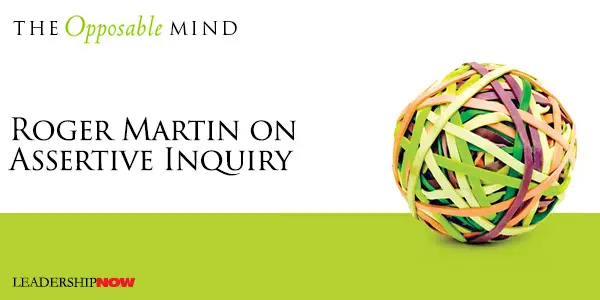 R
EADERS have had some questions about "assertive inquiry" as presented in
Roger Martin
's book
The Opposable Mind
. Here are some explanatory excerpts from the book:
"When we interact with other people on the basis of a particular mental model, we usually try to defend that model against any challenges. Our energy goes into explaining our model to others and defending it from criticism.
"The antidote to advocacy is inquiry, which produces meaningful dialogue. When you use assertive inquiry to investigate someone else's metal model, you find saliencies that wouldn't have occurred to you and causal relationships you didn't perceive. You may not want to adopt the mental model as your own, but even the least compelling model can provide clues to saliencies or causal relationships that will generate a creative solution."
Ask:
"Could you please help me understand how you came to believe that?"
"Could you clarify that point for me with an illustration or example?"
"How does what you are saying overlap, if at all, with what I suggested?"
Not:
"Don't you think that…?"
"Wouldn't you agree that…?"
Obviously tone is important here. If your attitude is one of really seeking to understand and build bridges, it will come across. Otherwise, it is just another way you've picked up to try to argue your point and that will come across too.
Martin continues, "Assertive inquiry isn't a form of challenge, but it is pointed. It explicitly seeks to explore the underpinnings of you own model and that of another person. Its aim is to learn about the salient data and causal maps baked into another person's model, then use the insight gained to fashion a creative resolution of the conflict between that person's model and your own."
* * *


Like us on
Instagram
and
Facebook
for additional leadership and personal development ideas.
* * *


Posted by Michael McKinney at 08:38 AM
Permalink | Comments (0) | TrackBacks (1) | This post is about Communication , Problem Solving , Thinking