The Ring in the Rubble
: Dig Through Change and Find Your Next Golden Opportunity
Gary Bradt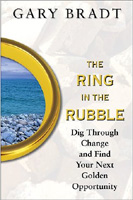 Format:
Paperback, 208pp.
ISBN:
9781259589645
Publisher:
McGraw-Hill
Pub. Date:
April 10, 2015
Average Customer Review:

For Bulk Orders Call: 626-441-2024

Description and Reviews
From
The Publisher:
When unexpected change reduces your best-laid plans to rubble, golden opportunities always lie beneath the surface.
It's up to you to find them.
Change always creates hidden opportunities. A leader's job is unearthing them. In The Ring in the Rubble, change authority Gary Bradt reveals the secrets to moving beyond the rubble of disruption, fear, and uncertainty that change often creates, to finding the golden ring of opportunity that always lies beneath.
Each chapter of this breakthrough book delivers a powerful principle for leading change, supported by engaging real-life experiences of the author and other well-known business executives that illustrate how to put principles into action. Bradt asks penetrating questions that help you "dig deeper" and pinpoint the best ways for applying these principles to your specific change effort.
You will discover how Richard Schulze weathered a devastating event that threatened to destroy everything he'd worked so hard to build-and became the founder of Best Buy in the process. You'll see how a 65-year-old man, nearly broke after having suffered a string of disastrous setbacks, dug through the rubble to emerge as Colonel Harland Sanders, who remains the face of Kentucky Fried Chicken to this day. Change itself doesn't dictate the eventual outcome of your situation; how you think about and handle change is what makes all the difference. You'll never find the ring if you don't start digging!

Reviews
It's up to you to find them."Bradt's message in this excellent and inspiring book is a 'golden ring' itself amidst the rubble often permeating our lives. It not only speaks true but makes you strive for more."
—Stephen R. Covey, author, The 7 Habits of Highly Effective People and The 8th Habit: From Effectiveness to Greatness
"Beautifully written and full of wisdom, The Ring in the Rubble is a gem."
—Ken Blanchard, co-author of The One Minute Manager and Leading at a Higher Level

About the Author
Gary Bradt
is one of today's most popular speakers on the leadership circuit, addressing corporate audiences around the world. His clients include IBM, General Motors, American Express, General Electric, eBay, FedEx, and NASA.

Table of Contents
| | | |
| --- | --- | --- |
| | Acknowledgments | ix |
| | My Story | 1 |
| | Introduction | 5 |
| | | |
| | You'll Never Find the Ring if You Don't Start Digging | 13 |
| | Let Go | 23 |
| | Latch On to What Matters Most | 37 |
| | Don't Manage Time, Invest It in People | 49 |
| | Don't Forget to Invest in Your Precious Gems at Home | 63 |
| | Repeat After Me: You Are Not the Center of the Universe | 77 |
| | Finding the Ring Requires Teamwork: Engaging Others to Dig for the Ring | 89 |
| | What to Do When the Rubble Is Deep, Your Patience Is Short, and the Odds Are Long | 103 |
| | There's a Fortune in Failure | 115 |
| | The Secret Fears That Keep You Up Digging Well Past Midnight | 127 |
| | Moving from Pain to Gain When Things Change | 141 |
| | No Excuses: Love What You Do or Find Another Place to Dig | 155 |
| | But I'm Afraid: Pick Up the Shovel and Dig Anyhow | 171 |
| | Rings Don't Come Free; Make Sure the Price You Pay Is Worth It | 183 |
| | Epilogue | 191 |

Find Items On Similar Subjects

Leading Change

Our Iceberg Is Melting
: Changing and Succeeding Under Any Conditions