5 Leadership Lessons: What Really Matters According to John Pepper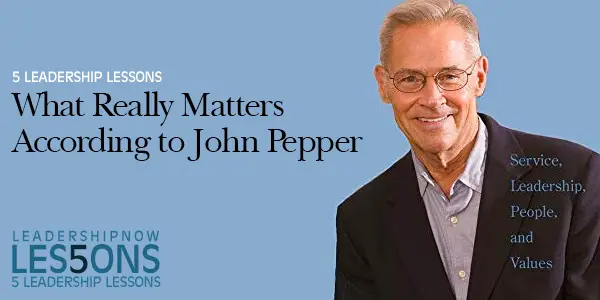 FORMER president, CEO, and chairman of Procter & Gamble, John Pepper has written a very friendly and open account of his forty years at P&G. He spends a good third of What Really Matters describing his rise up the corporate ladder—what he did do and what he would not do again—and how learned to build and manage leading product brands. He stresses the importance of building a community of leaders and leadership within a company and promoting from within whenever possible.

  "[A] characteristic of a vital community is holding ourselves accountable for delivering leadership results and being leaders in all that we do. A culture of leadership binds a community together as nothing else will. By achieving leadership, an institution attracts winners who will then motivate and energize each other to become even better. I cannot overstate the importance of this."

  "Over the years, I've seen that the strongest leaders are those who have enough confidence to seek input from others without losing the direction provided by their own internal compass. They understand that the objective of learning is not comfortable consensus. It is to make wiser, more informed choices."

  "We need to recognize that everything in our institutions, everything in life, depends on personal leadership, and personal leadership in turn depends on our being faithful to ourselves. Leadership is not some academic or abstract concept. It is very personal. Personal leadership makes things happen. Determine how you can best be of service in a particular situation, and you'll know how to lead."

  "Positive feedback sustains people, provided it's authentic. Honest conversation sustains all of us when it is with someone we respect. Why? Because it shows we matter."


  "Personal ownership is, above all else, something we do for ourselves. It is a choice we make by throwing ourselves into a business and by developing intimate contact with it. But we can nurture and encourage ownership among one another. How? By conveying trust and high expectations, authentically and honestly.
Knowing you are trusted contributes mightily to your feelings of ownership.
Just as some comments and questions can suppress a sense of ownership, others can turn it on. Consider the power of the simple question:
How do you think we should do this?
"
* * *


Follow us on
Instagram
and
Twitter
for additional leadership and personal development ideas.
* * *


Posted by Michael McKinney at 08:27 AM
Permalink | Comments (0) | This post is about Five Lessons