What Really Matters
: Service, Leadership, People, and Values
John Pepper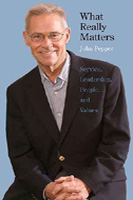 Format:
Hardcover, 320pp.
ISBN:
9780300123524
Publisher:
Yale University Press
Pub. Date:
May 16, 2007
Average Customer Review:

For Bulk Orders Call: 626-441-2024

Description and Reviews
From
The Publisher:
The fundamental question in business and in personal life is the same: What really matters? In this book one of America's most widely admired business leaders distills a lifetime of experience, including failures as well as successes, to reveal his answers.
John Pepper, president, CEO, and chairman of Procter & Gamble for a combined 16 years, underscores the importance of continuous change, innovation, and renewal as prerequisites for growth and sound leadership. In What Really Matters he suggests that a preparedness to alter perspective, rethink assumptions, or change course is central not only to understanding customer needs and keeping costs under control but also to developing talent, organizing global businesses, and supporting communities. While he discusses specific business tactics, he notes that they all center on fundamental tenets: listen to and respect the customer, engender personal accountability and passionate ownership, encourage diversity, and create a vibrant, trusting institution that incorporates employees and their families. In his own years as an executive, Pepper has demonstrated that a profitable business can create and sustain a culture that shapes—and is shaped by—ethical behavior. His profoundly important advice and counsel belong in the lexicon and practice of every leader.

Reviews
"John Pepper has been an inspiration to countless people around the world. What Really Matters captures his contagious optimism and positive presence, and lays out lessons for living and leadership from which we all can learn."
—A.G. Lafley, Chairman and CEO, Procter and Gamble
"No one should accept a position of responsibility without reading this book. John Pepper provides ground-zero real-world insights into managing the dilemmas that confront every leader-including ethical dilemmas. The business world might be quite different today if this book had been required reading for those CEOs of the past decade who lost their way."
—Norman R. Augustine, Retired Chairman and CEO, Lockheed Martin Corporation, Former Undersecretary of the Army, Former Chairman of the American Red Cross
"What Really Matters is a wonderful antidote for executives who make excuses for their bad behaviors: `it's complicated out there;' `the pressures are enormous;' etc., etc. In practical, clear, and compelling terms, John Pepper lays out how to lead with integrity, humility, and -not instead of -effectiveness."
—Roger Martin, Dean of the Rotman School of Management, University of Toronto
"John Pepper's What Really Matters may been written for a Procter and Gamble audience, but it should be read by other companies and business school, as well as those in government. Not only was John Pepper an extraordinarily creative CEO at P&G, but he also has an unusual ability to communicate what I call `character-based leadership.'"
—David M. Abshire, President and CEO, the Center for the Study of the Presidency


Reader's Index
Send us your favorite quotes or passages from this book
.
• "Over the years, I've seen that the strongest leaders are those who have enough confidence to seek input from others without losing the direction provided by their own internal compass. They understand that the objective of learning is not comfortable consensus. It is to make wiser, more informed choices." Pg. 243

About the Author
John Pepper
is chairman of the board of the Walt Disney Company and chief executive officer of the National Underground Railroad Freedom Center. Previously, he served as vice president of finance and administration at Yale University and in various executive positions at Procter & Gamble, including chairman of the board and chief executive officer. He is married, has four children, and lives in Wyoming, OH.

Table of Contents
| | | |
| --- | --- | --- |
| | Preface | ix |
| | Introduction: My Early Years in the Business | 1 |
| | | |
| | Part One: Foundations for Success | 9 |
| 1 | Creating Leadership Brands—and Keeping Them Young | 11 |
| 2 | Let the Consumer Decide | 41 |
| 3 | Goint for the Big Win | 67 |
| | | |
| | Part Two: Staying in the Lead | 103 |
| 4 | The Rewards of Doing Good | |
| 5 | The Power of Community | |
| | | |
| | Part Three: How We Live Our Lives | 161 |
| 6 | A Passionate Sense of Ownership | 163 |
| 7 | The Benefits of Diversity and the Challenge of Achieving It | 186 |
| 8 | A Personal Model for Living | 203 |
| 9 | A Family Affair | 253 |
| | | |
| | Conclusion: Enduring Values in an Age of Innovation | 263 |
| | Appendix 1: Biographies of Key Leaders | 269 |
| | Appendix 2: Redesigning Your Organizational Structure to Achieve Your Purpose | 274 |
| | Sources and Selected Bibliography | 283 |
| | Acknowledgements | 289 |
| | Index | 291 |

Find Items On Similar Subjects

True North
: Discover Your Authentic Leadership