Do You Have All the Answers?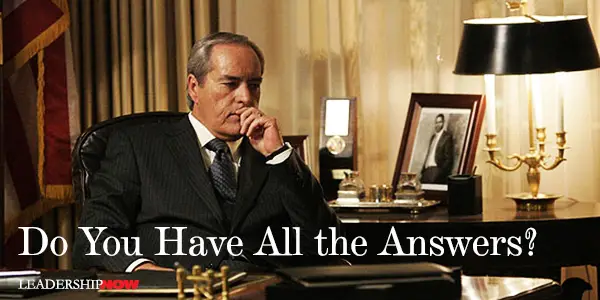 THE President of the United States, on the Fox TV show 24, made a comment regarding leaders and followers that we all—celebrity or not—should consider before trying to weigh-in on the decisions that any of our leaders make.
We all too often offer opinions on what should have been done in hindsight based on such limited information. This doesn't mean that we should be blind followers, but that any criticisms we have should be tempered with humility and an understanding that the information we have at our disposal is most often simplistic at best. We should judge the way we would want to be judged.
On the show, President Noah Daniels reflected, "You know Tom, it's easy to think you've got all the answers when none of the ultimate responsibility lies with you. But sittin' in this chair.… Until you sit in this chair, you don't know anything."
How true and how easily we forget.
John F. Kennedy once said, "No one has the right to grade a President—not even poor James Buchanan—who has not sat in his chair, examined the mail and information that came across his desk, and learned why he made his decisions."
Michael Watkins wrote on the Harvard Business Review site about a circular prison design whereby the inmates could be observed by a centrally-located warden. "The prisoners were unable to tell at any given moment whether or not they were being observed. The goal was to create what Bentham described as a debilitating 'sentiment of an invisible omniscience' and 'a new mode of obtaining power of mind.'"
As a society, are we moving to such an Orwellian approach to others? He observes:
But we are hurtling toward something that could be far worse, the multitudes observing every act of the powerful, waiting (even hoping) for the fatal flaw to emerge, and then inciting the web-based mob to cry for blood.

When do we cross the line from appropriate safeguards to paralyzing surveillance?
* * *


Like us on
Instagram
and
Facebook
for additional leadership and personal development ideas.

Posted by Michael McKinney at 08:49 AM
Permalink | Comments (0) | TrackBacks (1) | This post is about Personal Development