When Making Judgments About Our Leaders and Others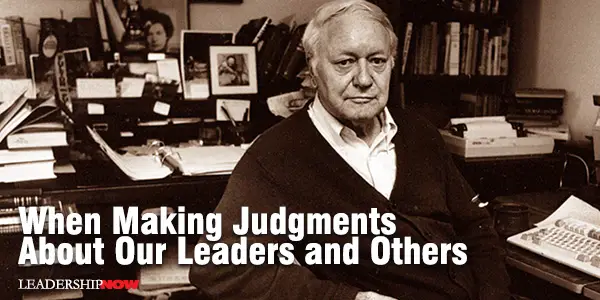 AS ONE OF the greatest journalists of all time, twice receiving the Pulitzer Prize, New York Times journalist James Reston (1909-1995) wrote in his memoirs about a trap we can fall into when judging others.
He related how his wife, Sally, helped to temper his comments and writing. It's a trap that we most easily fall into when we are overly focused on our own agenda or frustrated over simply not getting our own way. It's good advice for any of us to keep in mind when we are getting ready to air our opinion—especially on social media.
He wisely wrote:
One of the blind spots of reporters is that after a while, we are inclined to forget that officials are people. Preoccupied with issues, we come to regard them as liberals or conservatives, honest or crooked, but seldom as ordinary folk who have wives and children and cry when they're hurt. Sally was always saving me from this folly. She knew a lot of these official families and knew also when their kids were sick or flunking out of school or fiddling with drugs. Thus when some political luminary seemed to be in a slump, talking more nonsense than usual, she would say maybe he was worrying about the family, or, as I was inclined to believe, about his own wandering and wayward habits. Still, it was useful to be reminded that these headline characters have things to worry about other than the national debt—their own debts, for example.
Times have changed. Journalism today is very different from the journalism Reston practiced. He said in on the occasion of the 50-year anniversary of the Pulitzer Prizes in 1966, that "Some of the old newspaper traditions, of course, we maintain. Our self-righteousness, I can assure you, is undiminished. Our capacity to criticize everybody and our imperviousness to criticism ourselves, are still, I believe, unmatched by novelists, poets or anybody else."
In Scotty: James B. Reston and the Rise and Fall of American Journalism, author John Stacks writes:
He had access to the corridors of power because he was trusted to report and write with a sense of balance and humanity; He was often critical of policies and policy makers but rarely harsh on these judgments. He got to know the powerful as human beings, as people with strengths and weaknesses. He usually thought they were trying do their difficult jobs as well as they could and in what they saw as the best interests of the nation. There was, at the heart of Reston's style of journalism, a sense of common purpose with the government and political leaders. He felt that journalism and government were integral parts of the fabric of the country, working in different ways toward the same goal: helping the country deal with threats to its health and survival from home and abroad. The press and government, although with different interests and different priorities, were seen by Reston as collaborators in on enterprise, the preservation of the United Sattes of America.
* * *


Like us on
Instagram
and
Facebook
for additional leadership and personal development ideas.
* * *


Posted by Michael McKinney at 09:30 AM
Permalink | Comments (0) | TrackBacks (2) | This post is about Personal Development