Martin Luther King Jr. and Adaptive Change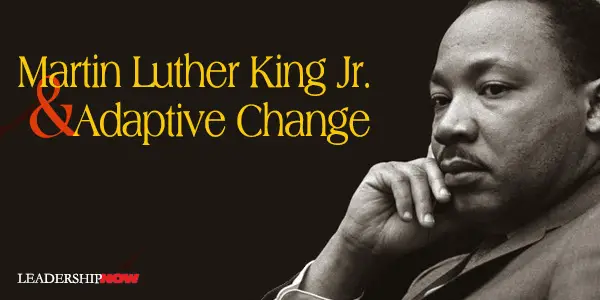 W
HEN TRYING TO bring about a solution that requires adaptive change—a change in frame-of-reference, a change in attitudes, values, and behaviors—the challenge is to "
work with differences, passions, and conflicts in a way that diminishes their destructive potential and constructively harness their energy
."
In Leadership on the Line, authors Ronald Heifetz and Marty Linsky explain, "To sustain momentum through a period of difficult change, you have to find ways to remind people of the orienting value—the positive vision—that makes the current angst worthwhile."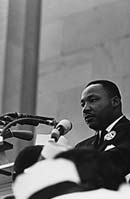 "As you catalyze change, you can help ensure that you do not become a lightning rod for the conflict by making the vision more tangible, reminding people of the values they are fighting for, and showing them how the future might look. By answering, in every possible way, the "why" question, you increase people's willingness to endure the hardships that come with the journey to a better place."
This is what Martin Luther King Jr.'s accomplished in his famous I Have a Dream speech. He painted a tangible vision when he said:
I have a dream that my four little children will one day live in a nation where they will not be judged by the color of their skin but by the content of their character. I have a dream today.

I have a dream that one day down in Alabama, with its vicious racists, with its governor having his lips dripping with the words of interposition and nullification - one day right there in Alabama, little black boys and black girls will be able to join hands with little white boys and white girls as sisters and brothers. I have a dream today.
Interestingly enough, the civil rights speakers who were to speak on that day—August 28, 1963—argued amongst themselves who would speak when and for how long.

King had agreed to not only speak at the end of the day but to limit his remarks to four minutes. This would seem to have had the effect of virtually sidelining King as it was assumed that the newsmen would have to leave to prepare for the nightly news, and the crowd would have thinned out by then. However, the news crews and the crowds stuck around to hear King. His well-rehearsed but improvised words captivated everyone present. His four-minute limit stretched to over 16 minutes, and the rest is history.
* * *


Follow us on
Instagram
and
Twitter
for additional leadership and personal development ideas.

Posted by Michael McKinney at 07:11 AM
Permalink | Comments (0) | This post is about Change , Communication , Leaders