Goldsmith's Gold: "You asked for my opinion and now you're arguing with me?"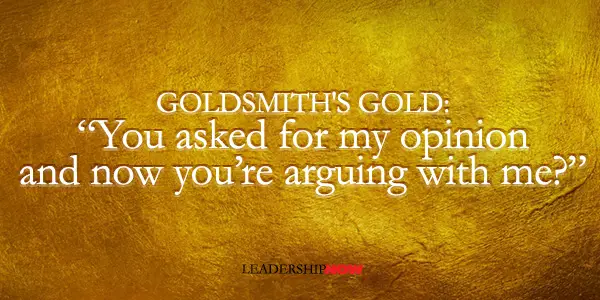 WHEN we ask a friend, "What do you think I should do in this situation?" we are setting up the expectation that we want an answer—and that we will give the answer full consideration and quite possibly use it. We are not announcing that we're initiating an

argument.

But that's exactly what we're doing when we ask for feedback from someone and then immediately express our opinion. This is certainly true when our opinion is negative ("I'm not sure about that . . . ."). Whatever we say, however softly we couch it, our opinion will sound defensive. It will resemble a rationalization, a denial, a negation, or an objection.
Stop doing that. Treat every piece of advice as a gift or a compliment and simply say, "Thank you." No one expects you to act on every piece of advice. If you learn to listen—and act on the advice that makes sense—the people around you will be thrilled.
Additionally, he cautions that it is not appropriate to pass judgments on people's opinions when we specifically ask them to give it to us. Naturally, we don't like to be critiqued, but "the only sure thing that comes out of passing judgment on people's efforts to help us is that they won't help us again…. No matter what you privately think of the suggestion, you must keep your thoughts to yourself, hear the person out, and say, 'Thank you.'" Solid advice.
This is adapted from What Got You Here Won't Get You There by Marshall Goldsmith.
* * *


Follow us on
Instagram
and
Twitter
for additional leadership and personal development ideas.
* * *


Posted by Michael McKinney at 09:38 AM
Permalink | Comments (0) | TrackBacks (1) | This post is about Personal Development