You Can Never Do Wrong, Doing Right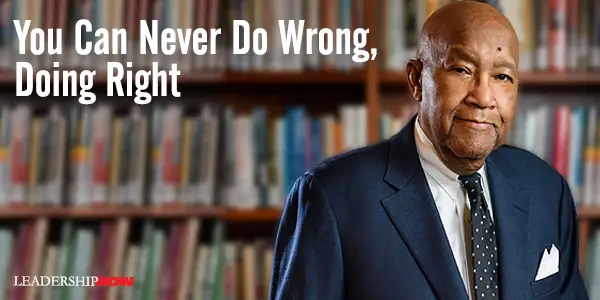 ON Martin Luther King Day, it is worth meeting a close friend of his, Robert J. Brown.
Brown is the great-grandson of a slave. Raised by his grandmother in High Point, North Carolina, she used to tell him, "Bobby, do the right thing because you can never do wrong, doing right. You can't go wrong." And that has proven true for him over and over again.
Although he grew up in poverty, his grandmother—he called her Mama—taught him about stewardship early on. Once when he was young, he asked her, "why do we give our food to these people who spend their days and nights drinkin' and sleepin' in the street when you and Daddy and Bill and me work so hard to put it on the table?"
My question must have touched something in her. Mama waved for me to come up and sit in the chair with her. When I'd settled in, she told me a story from the Bible, of the time when Jesus knocked on someone's door for help, but they turned Him away because He was dressed in rags.

"If I never teach you anything else," she said, "I want to teach you that one thing—you never know which way the Lord will come to you. He will test you to see if you follow His teachings. So, life is all about giving, sharing, and serving others. If you give whatever you can, the Lord will give you more than you will ever need. He will take you up so high you won't believe it."

Mama was wound up. I listened as a life's worth of lesson poured out of her.

"Son, you don't have to be rich to give. We aren't rich, but we had food in the pot today. The Lord provided that food, and he provided it to me so I could share it with others. He gave us enough to share. That's what you should do with your life, Bobby. Whatever you get, make sure you try to help somebody else with it, because the Lord gives it to you so you can give it to somebody else."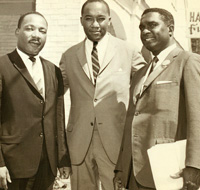 And that's what Bob Brown went out and did with his life. Besides being a personal friend to Martin Luther King and an advisor to Nelson Mandela and his family, he was the highest serving African American leader in the White House under President Nixon. He worked in the presidential campaigns of both John F. Kennedy and Robert F. Kennedy. He holds ten honorary doctorate degrees and six national achievement awards. He has also been honored as a recipient of the Horatio Alger Association of Distinguished Americans Award. He also serves on the board of the Richard Nixon Foundation and is chairman of the
High Point University
Board of Trustees. He founded and is the Chairman and Chief Executive Officer of
B&C Associates, Inc.
, a management consulting, marketing research and public relations firm.
Sir Isaac Newton said, "If I have seen further, it is by standing on the shoulders of giants." Great people stand on the shoulders of great people, and for Martin Luther King, Nelson Mandela and many others, Bob Brown helped make their success possible. His remarkable story is chronicled in his inspiring autobiography, You Can't Go Wrong Doing Right: How a Child of Poverty Rose to the White House and Helped Change the World.
* * *


Like us on
Instagram
and
Facebook
for additional leadership and personal development ideas.
* * *


Posted by Michael McKinney at 07:00 PM
Permalink | Comments (0) | This post is about Leaders