Goldsmith's Gold: You Are Under the Microscope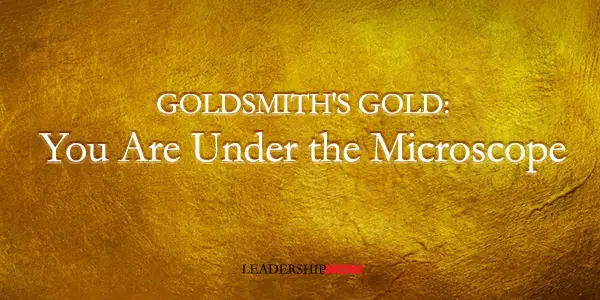 MARSHALL GOLDSMITH makes an important point about how much a leader's behavior matters to the people they are leading. Some parts of your job are exhilarating and some parts are very boring. Sometimes you are up for it and sometimes you are not. But like a Broadway actor, your professionalism demands that you put your personal issues behind you and give it your best. As the leader there is no "off" switch.
In his excellent Succession from Harvard's Memo to the CEO series, he explains:
Let's face it: your successor, like you, will spend hour after hour listening to potentially boring PowerPoint presentations—on topics that he has already been briefed on. He needs to realize that those presentations may be the summary of months of effort by employees at all levels in your organization. He needs to understand how much these employees care about their CEO's reaction. He will need to actively listen—and communicate with caring, interest, and enthusiasm—no matter how tired he may feel on the inside. He needs to realize that everyone will not only be listening to his words—everyone will be watching his face. Signs of boredom or indifference that may be ignored if coming from peers can be demoralizing when coming from CEOs. Signs of recognition and support can validate employees and provide needed recognition and inspiration after a great effort.
* * *


Follow us on
Instagram
and
Twitter
for additional leadership and personal development ideas.
* * *


Posted by Michael McKinney at 07:22 AM
Permalink | Comments (0) | TrackBacks (1) | This post is about Leadership Development