You Don't Need a Title To Be a Leader
: How Anyone, Anywhere, Can Make a Positive Difference
Mark Sanborn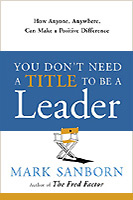 Format:
Hardcover, 112pp.
ISBN:
9780385517478
Publisher:
Currency
Pub. Date:
September 19, 2006
Average Customer Review:

For Bulk Orders Call: 626-441-2024

Description and Reviews
From
The Publisher:
How anyone can lead at any time, on any level
In his inspiring new book,
You Don't Need a Title to Be a Leader
, Mark Sanborn, the author of the national bestseller
The Fred Factor
, shows how each of us can be a leader in our daily lives and make a positive difference, whatever our title or position.
Through the stories of a number of unsung heroes, Sanborn reveals the keys each one of us can use to improve our organizations and enhance our careers.
Genuine leadership – leadership with a "little l", as he puts it, is not conferred by a title, or limited to the executive suite. Rather, it is shown through our everyday actions and the way we influence the lives of those around us. Among the qualities that genuine leaders share:
Acting with purpose rather than getting bogged down by mindless activity
Caring about and listening to others
Looking for ways to encourage the contributions and development of others rather than focusing solely on personal achievements
Creating a legacy of accomplishment and contribution in everything they do
As readers across the country discovered in
The Fred Factor
, Mark Sanborn has an unparalleled ability to explain fundamental business and leadership truths through simple stories and anecdotes. You Don't Need a Title to Be a Leader offers an inspiring message to anyone who wants to take control of their life and make a positive difference.

Reviews
"Using his master skills in story-telling, Mark Sanborn enables us all to see that at the heart of it leadership is really about ordinary people achieving extraordinary things."
—Lois P. Frankel, Ph.D., author of Nice Girls Don't Get the Corner Office
"This book has a quality I admire. It is simple. Not the kind of simple you find in a fortune cookie, but the elegant simplicity that can only be born from experience. I love this little book and strongly recommend it for anyone who wants to be a leader in life."
—Stephen C. Lundin, Big Tuna Ph.D., Co-author of the FISH series
"Mark Sanborn has done it again! This time leadership is his focus and he has delivered a powerful little book that must be on every leader's desk."
—Pat Williams, author, speaker, and Vice President of the Orlando Magic
"Read this book if you want to lead a better life, lead an organization, or lead the way."
—Jeffrey J. Fox, author of Secrets of Great Rainmakers
"Mark has hit a grand-slam with You Don't Need a Title to be a Leader. It will speak to you regardless of your age, profession or position. I am adding it to my "must read list" for my kids, teammates and clients."
—Daniel Harkavy, Head Coach and CEO, Building Champions
"This book has it all... it's delivers real, usable leadership concepts in an entertaining and captivating way. Don't miss this opportunity… to take your leadership skills to a new, more effective level"
—Rob Mitchell, Chief Development Officer, American Cancer Society
"Everyone of us have the power to shape our lives and influence the lives of others. In this short, powerful book by Mark Sanborn, you'll discover how."
—John C. Maxwell, Author, Speaker and Founder INJOY Stewardship Services and EQUIP
"Mark Sanborn has done it again. Thoughtful principles, illustrated with terrific examples, of what great leaders do to be successful. Must read for people at any level within an organization who want to achieve their professional and personal potential."
—Dave Pelliccioni, Group Vice President, Secretary, and Director, Toyota Motor Credit Corporation
"If you want to learn to lead — or lead better — read this book."
—Marcus Buckingham, author of First, Break All the Rules and Now, Discover Your Strengths
This is an essential leadership development tool for any organization. Everyone has the ability to make a difference...to have an impact regardless of title. Mark's book powerfully motivates, inspires, and gives the right answers to the question "What am I going to do to make a positive difference?" Truly outstanding!
—Julie Marks Miller, Vice President of Training and Leadership Development, ADP, Inc.
"As a CEO, I'm always asking people in my company to show more leadership. I want each one of them to read this book, because Mark Sanborn perfectly articulates the message I want to convey."
—Keith Ferrazzi, author of Never Eat Alone and CEO of marketing and sales consultancy Ferrazzi Greenlight
"I love writers who make leadership an active principle!! Even the title, You Don't Need a Title to be a Leader, tells us to take charge by our actions. Mark Sanborn lets you know that leading involves you DOING something. You gotta read this one."
—Dave Ramsey, Three-time New York Times bestselling author


Reader's Index
Send us your favorite quotes or passages from this book
.
• "Genuine authentic leadership infuses meaning into your life, because you know that your efforts count and that you are serving the needs of others as well as your own." Pg. 31

About the Author
Mark Sanborn
is an international known author, motivational speaker, and the president of Sanborn & Associates, Inc., an idea studio for leadership development. He gives nearly one hundred presentations each year on leadership, team building, customer service, and mastering change. Mark and his family live near Denver, Colorado.

Table of Contents
| | |
| --- | --- |
| | |
| Acknowledgments | ix |
| Introduction | xi |
| | |
| PART I: A LEADER IS . . . | 1 |
| They Didn't Need a Title to Be Leaders (and Neither Do You) | 3 |
| An Invitation to Greatness | 10 |
| Leaders Increase ROI | 17 |
| | |
| PART II: THE SEVEN PRINCIPLES OF LEADERSHIP | 25 |
| Principle 1: The Power of Self-Mastery | 27 |
| Principle 2: The Power of Focus | 40 |
| Principle 3: Power with People | 50 |
| Principle 4: The Power of Persuasive Communication | 61 |
| Principle 5: The Power of Execution | 70 |
| Principle 6: The Power of Giving | 82 |
| | |
| PART III: MAKING A POSITIVE DIFFERENCE | 91 |
| Leaving a Leadership Legacy | 93 |
| Mastering Leadership | 103 |
| | |
| About the Author | 105 |

Find Items On Similar Subjects

Up, Down, or Sideways
: What You Must Always Do to Succeed When Times Are Good, Bad, or in Between

The Encore Effect
: How to Achieve Remarkable Performance in Anything You Do

The Fred Factor
: Every Person's Guide to Making the Ordinary Extraordinary!

The 360 Degree Leader
: Developing Your Influence from Anywhere in the Organization

Get Out of Your Own Way
: The 5 Keys to Surpassing Everyone's Expectations