Most Americans Own Books — But Not Many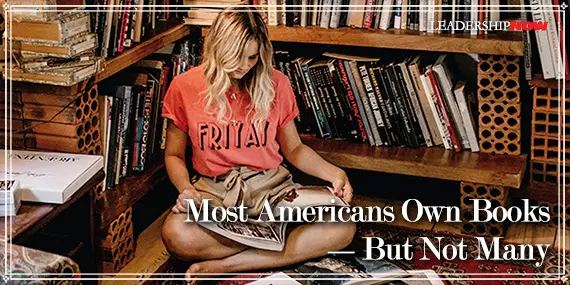 YouGov asked more than 29,000 Americans whether they owned books and found that the vast majority did: 85% said they owned at least one physical book. They report the following findings:
However, one in five Americans say they own between one and ten physical books. Including the 9% of respondents who say they own no physical books, at least 69% of Americans own no more than 100 books. Another 25% own at least 100 books, including 4% who own between 500 and 1,000 books and 3% who own more than 1,000 volumes.
Looking at age, 19% of Americans between 31 and 35 years old own at least 100 physical books, compared to 31% of those between 51 and 55 and 42% of those between 71 and 75.
The higher the education level, the more books they own. For example, among 31- to 35-year-olds, 8% of people whose highest level of education is a high school diploma own at least 100 books, compared to 25% of people in the same age range with postgraduate degrees.
When it comes to how they arrange their books, 29% of book-owning Americans say they don't organize their books. 22% of book-owning Americans organize their books by genre or subject. Sorting books by color is more popular among younger Americans. Among book owners under 30, 6% say they sort by color, compared to less than 1% of book owners who are 65 or older.



Follow us on Instagram and Twitter for additional leadership and personal development ideas.

Posted by Michael McKinney at 06:24 AM
Permalink | Comments (0) | This post is about Weekend Supplement