Leading Thoughts for October 19, 2023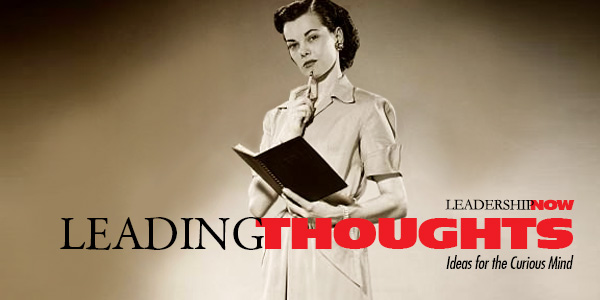 IDEAS shared have the power to expand perspectives, change thinking, and move lives. Here are two ideas for the curious mind to engage with:
I.
Richard Winters on collaborative decision-making:
"A top-down process for decision-making by edict may work fine in predictable situations or during times of crisis. But when it comes to making strategic decisions in complex and unpredictable environments, the all-too-familiar method of reflexive decision-making breaks down and delivers poor results. Our expertise and our power to decide get in the way of optimal outcomes. This occurs not only when we lead groups of people, but also when we have one-to-one conversations with colleagues."
Source: You're the Leader. Now What? Leadership Lessons from Mayo Clinic
II.
Mark Sanborn on pulling others to achieve their potential:
"Nobody likes to be driven by someone else; it feels like being pushed. But when someone can show us how to be bigger on the inside—in our attitude and mindset—that can help attract or pull us toward what we can become."
Source: The Encore Effect: How to Achieve Remarkable Performance in Anything You Do
* * *
Look for these ideas every Thursday on the Leading Blog. Find more ideas on the LeadingThoughts index.
* * *


Like us on
Instagram
and
Facebook
for additional leadership and personal development ideas.

Posted by Michael McKinney at 06:39 AM
Permalink | Comments (0) | This post is about Leading Thoughts