5 Leadership Lessons: The Leader's Voice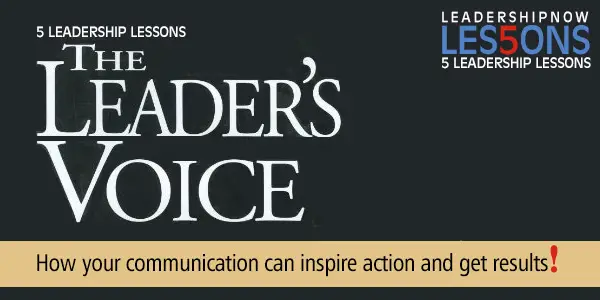 LEADERS HELP FOLLOWERS find causes worth signing up for—something they can make an emotional investment in. That highlights the importance of leadership communication. Effective leaders communicate who they are and move the whole organization. Boyd Clarke and Ron Crossland are the ones who said, "The biggest problem with leadership communication is the illusion that it has occurred." Here are five takeaways from their book The Leader's Voice: How Your Communication Can Inspire Action and Get Results!

  The leader's voice simplifies the complex and clarifies the cloudy. It quiets dissonance and strikes the chord that defines direction. It replaces despair with hope and cynicism with purpose. It plainly stets the unspoken, describes precisely what people feel but fear to say, and calls others to action when they are paralyzed. The genius of leadership is to speak with a voice that pushes past cynicism, doubt, and uncertainty.

  When leaders communicate facts alone, constituents fill the emotional and symbolic blanks. The same is true of the other channels. We always fill in the blanks. Remember, your brain works this way. When constituents fill in the blanks left by leaders, they construct a different message than the leaders sent. Leaders, believing they have communicated completely, now fall into the fatal assumptions trap. What results is one of four things: a lack of understanding, a lack of agreement, a lack of caring, or a lack of appropriate action.

  We've heard it said that the difference between a vision and a hallucination is the number of people who see it. A leader's job is to unite his or her associates by helping them all see the same thing. This is the responsibility of leaders, not marketing or the communications department. We need to create a communication plan for the organization, and each leader needs to plan to communicate. By creating a rich plot, leaders can include customers, employees, shareholders, and partners in the same movie.

  Hucksters tell great stories. Leaders tell their stories. The search for one's voice is simply the search for self. Often, leaders don't know what they want to say because they don't know who they are. If your only intention is to sell someone, then any story might do. If you want to sell yourself as a leader, you have to tell your story. The leader's message grows naturally from a clear sense of self.

  Leaders who are authentic, who remain true to who they are and what they believe, retain their follower's ear. When trust is high, communication bypasses all the natural filters that protect us from being cheated and deceived. With barriers down and filters removed, a few authentic words can speak volumes.
* * *


Follow us on
Instagram
and
Twitter
for additional leadership and personal development ideas.
* * *


Posted by Michael McKinney at 03:23 PM
Permalink | Comments (0) | This post is about Communication