Leading Thoughts for September 7, 2023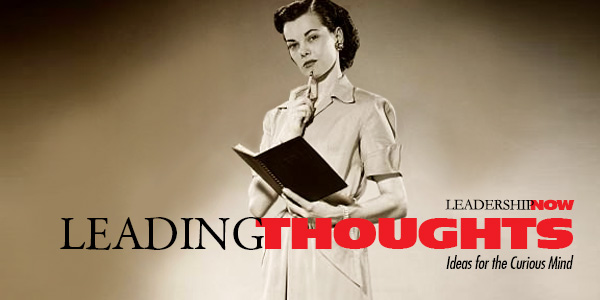 IDEAS shared have the power to expand perspectives, change thinking, and move lives. Here are two ideas for the curious mind to engage with:
I.
Carey Nieuwhof on character:
"If you don't nurture your character daily, you can be most admired by the people you know least, while the people who know you best struggle with you the most.

Character development for the most part doesn't happen in some monastery with stone walls and dank cellars. It happens in the grind of everyday life. It has to because that's where your character gets challenged the most: in parking lots, during meetings, amid marital conflict, and at home when you're exhausted and the garbage still needs to be taken out and you trip over the kids' shoes.

If you don't have a day-to-day strategy, you'll never win the battle for your soul."
Source: Didn't See It Coming: Overcoming the Seven Greatest Challenges That No One Expects and Everyone Experiences
II.
Jeffrey Pfeffer on not deceiving yourself into getting complacent:
"Once people believe they are better leaders—possibly because they have given talks or written about positive leadership, have attended lots of leadership trainings, or because they were once acknowledged for their good leadership—they are less likely to be as vigilant about their subsequent behavior, having already demonstrated their leadership credentials.

It is perhaps not that surprising, then, that some of the most harmful and hypocritical leaders are those who enjoy the most favorable leadership reputations and do a lot of teaching and writing about leadership—actions that then provide them the discretion to not actually live up to those reputations in their real behavior."
Source: Leadership BS: Fixing Workplaces and Careers One Truth at a Time
* * *
Look for these ideas every Thursday on the Leading Blog. Find more ideas on the LeadingThoughts index.
* * *


Like us on
Instagram
and
Facebook
for additional leadership and personal development ideas.

Posted by Michael McKinney at 06:26 AM
Permalink | Comments (0) | This post is about Leading Thoughts