Leading Thoughts for June 15, 2023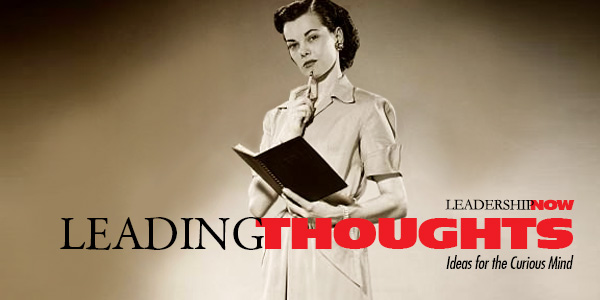 IDEAS shared have the power to expand perspectives, change thinking, and move lives. Here are two ideas for the curious mind to engage with:
I.
Boyd Clark and Ron Crossland on how leaders need to fill in the blanks:
"When leaders communicate facts alone, constituents fill in the emotional and symbolic blanks. The same is true for the other channels. We always fill in the blanks. Remember your brain works this way. When constituents fill in the blanks left by leaders, they construct a different message than the leader sent. Leaders, believing they have communicated completely, not fall into the fatal assumptions trap. What results is one of four things: a lack of understanding, a lack of agreement, a lack of caring, or a lack of appropriate action."
Source: The Leader's Voice: How Your Communication Can Inspire Action and Get Results!
II.
Scott Adams on knowing where to start:
"When you do something the wrong way, the people who know how to do things the right way will generally jump in to tell you what you are doing wrong. Take advantage of all that free advice.

"If you don't know how to do something the right way, and Googling doesn't help, the only alternative to doing things the wrong way is to do nothing at all. That's loserthink. Waiting until you know how to do something exactly right is a poor strategy. You could be waiting forever. Better to jump in, make your mistakes, and see what kind of free assistance that attracts."
Source: Loserthink: How Untrained Brains Are Ruining America
* * *
Look for these ideas every Thursday on the Leading Blog. Find more ideas on the LeadingThoughts index.
* * *


Like us on
Instagram
and
Facebook
for additional leadership and personal development ideas.

Posted by Michael McKinney at 08:03 AM
Permalink | Comments (0) | This post is about Leading Thoughts