10 Books You Should Read This Summer 2023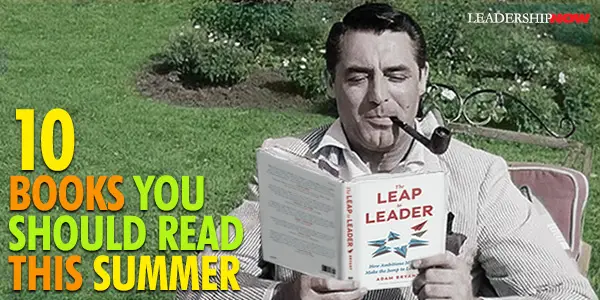 CARY GRANT enjoyed reading—often in the evenings with a scotch. He was inclined to read biographies, current affairs, and self-help books.
As a parent dedicated to learning, he especially loved reading to his daughter Jennifer. She remembers, "I can still feel the perfect ease of our Hampton summer days, swimming, boating, tennis, reading, and backgammon by the pool with burgers. Divine." He told his daughter, "One must always be careful with books and treasure them."
The summer is a perfect time to relax and read, taking time to reflect. Also, as Wally Bock suggests, take the time to pick up something you've always wanted to read, something fun to read, and perhaps re-read a book that will help you to reconnect. Here are ten suggestions for books to inspire you and help to grow your leadership.

  The Creative Act: A Way of Being by Rick Rubin - (January 2023)
Music producer Rick Rubin has thought deeply about where creativity comes from and where it doesn't, he has learned that being an artist isn't about your specific output, it's about your relationship to the world. Creativity has a place in everyone's life, and everyone can make that place larger. In fact, there are few more important responsibilities.

  Finding the Way: The Entrepreneur's Tale by Cap Treeger - (January 2023)
In this fictional account of an entrepreneur's rollercoaster ride to the top, Cap Treeger crafts a series of dynamic, well-drawn lessons for anyone that wants to start or build a business.

  Good Power: Leading Positive Change in Our Lives, Work, and World by Ginni Rometty - (March 2023)
Former IBM CEO Ginni Rometty her groundbreaking path from a challenging childhood to becoming the CEO of IBM and one of the world's most influential business leaders. With candor and depth, Rometty shares milestones from her life and career while redefining power as a way to drive meaningful change in positive ways for ourselves, our organizations, and for the many, not just the few—a concept she calls "good power."

  An Ordinary Man: The Surprising Life and Historic Presidency of Gerald R. Ford by Richard Norton Smith - (April 2023)
From the preeminent presidential scholar and acclaimed biographer of historical figures including George Washington, Herbert Hoover, and Nelson Rockefeller comes this eye-opening life of Gerald R. Ford, whose presidency arguably set the course for post-liberal America and a post-Cold War world.

  The Wisdom of the Bullfrog: Leadership Made Simple (But Not Easy) by Admiral William H. McRaven - (April 2023)
The Wisdom of the Bullfrog draws countless experiences from Admiral McRaven's incredible life, including crisis situations, management debates, organizational transitions, and ethical dilemmas, to provide readers with the most important leadership lessons he has learned over the course of his forty years of service.

  Generation Why: How Boomers Can Lead and Learn from Millennials and Gen Z by Karl Moore - (May 2023)
This book helps managers understand the postmodern worldview held by generation Z and younger millennials, how it influences their behaviour at work, and how they want to be led in the workplace.Karl Moore takes a practical and down-to-earth approach to understanding what drives millennials and generation Z and how the education system they were brought up in has informed their worldview.

  Positive Chaos: Transform Crisis into Clarity and Advantage by Dan Thurmon - (June 2023)
From discovering how credibility stems from vulnerability, to why being honest about what you don't yet know can empower others to feel more confident and capable of contributing, you will learn how to improve yourself while becoming a better leader.

  The Leap to Leader: How Ambitious Managers Make the Jump to Leadership by Adam Bryant - (July 2023)
The Leap to Leader is your trusted playbook for making the biggest jump of your career. You'll learn from more than a hundred successful leaders who share their powerful insights and compelling stories of how to make the leap, along with practical strategies and tactics for building a loyal following, moving up quickly to broaden your impact, and making the subtle but crucial mindset shifts that are required to lead others effectively.

  Power to the Middle: Why Managers Hold the Keys to the Future of Work by Bill Schaninger, Bryan Hancock and Emily Field - (July 2023)
In recent decades, midlevel managers became a favorite target for the chopping block—underappreciated, often considered a superfluous layer of the organization. Not only does this outdated perspective need to change, but the future demands it.

  Master of Change: How to Excel When Everything Is Changing—Including You by Brad Stulberg - (July 2023)
Stulberg offers a new model that describes change as an ongoing cycle of order, disorder, and reorder—yes, we return to stability, but that stability is somewhere new. He offers concrete principles for developing a mindset called rugged flexibility, along with habits and practices to implement it.
* * *


Follow us on
Instagram
and
Twitter
for additional leadership and personal development ideas.

Posted by Michael McKinney at 09:53 AM
Permalink | Comments (0) | This post is about Books