Good Team Leaders Checklist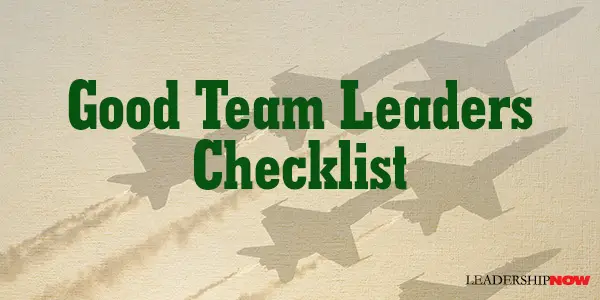 HIGH-PERFORMING teams have six characteristics: leadership, organization, communication, knowledge, experience, and discipline, says former Air Force F-115 pilot James Murphy. But among these, leadership comes first. Bad leadership will doom a team.
Leaders hold themselves accountable for the team's performance. And great teams support each other.
In Courage to Execute he writes, "Leaders of high-performing teams encourage their people to ask these two questions: First, is there someone on my team that needs my help in achieving our objectives? Second, do I need help from someone on my team to achieve our objectives?"
Murphy offers a Good Team Leaders Checklist to ensure you are creating a positive team environment on a daily basis:
○ Take responsibility: A team owns success; a leader owns failure.
○ Enforce accountability for themselves and their team members.
○ Model an Appropriate example.
○ Reinforce standards and processes.
○ Cultivate situational awareness.
○ Listen actively.
○ Facilitate collaboration.
○ Delegate, trust, and develop leadership in others.
○ Orchestrate mutual support.
○ Thank and reward team members.
* * *


Follow us on
Instagram
and
Twitter
for additional leadership and personal development ideas.
* * *


Posted by Michael McKinney at 11:03 AM
Permalink | Comments (0) | This post is about Teamwork