Leading Thoughts for October 13, 2022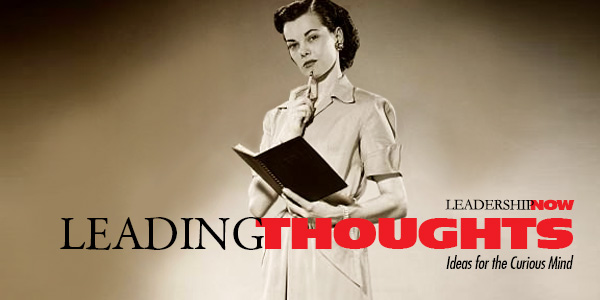 IDEAS shared have the power to expand perspectives, change thinking, and move lives. Here are two ideas for the curious mind to engage with:
I.
Consultants Kevin and Jackie Freiberg on finding the right fit when hiring:
"Consultants Kevin and Jackie Freiberg on finding the right fit when hiring: Have you defined what it takes to be a great employee in your company? Identify people who already work for you who fit the description. Then ask their customers, employees, peers, and managers what makes them so effective and easy to do business with.

Take the answers and make a list of the relevant attributes, such as establishes great rapport with customers; works efficiently; knows the technology better than anyone; has a special knack for helping staff develop; can find humor in difficult situations. From this list, create a profile of a great employee and see to it that new hires match it. "
Source: Guts: Companies that Blow the Doors Off Business-As-Usual
II.
Mike Myatt on the leadership gap:
"When leadership is perceived as little more than a title granting access to a platform for personal gain, rather than a privilege resulting in an opportunity to serve, we'll continue to find ourselves in a crisis of leadership."
Source: Hacking Leadership: The 11 Gaps Every Business Needs to Close and the Secrets to Closing Them Quickly
* * *
Look for these ideas every Thursday on the Leading Blog. Find more ideas on the LeadingThoughts index.
* * *


Like us on
Instagram
and
Facebook
for additional leadership and personal development ideas.

Posted by Michael McKinney at 12:34 PM
Permalink | Comments (0) | This post is about Leading Thoughts