Leading Thoughts for May 5, 2022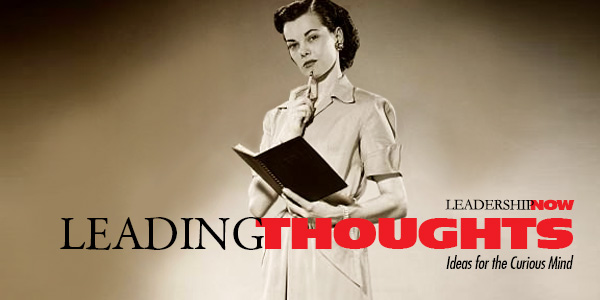 IDEAS shared have the power to expand perspectives, change thinking, and move lives. Here are two ideas for the curious mind to engage with:
I.
Professor Scott Galloway on the worst advice given to young people:
"Your job is to find something you're good at. And then spend thousands of hours and apply the grit and the sacrifice and the willingness to break through hard things to become great at it. Because once you're great at something, the economic accouterments of being great at something, the prestige, the relevance, the camaraderie, the self-worth of being great … will make you passionate about whatever it is. Here's the problem with believing you should follow your passion: Work is hard. And when you run into obstacles and you face injustice, which is a common guaranteed attribute of the workplace, you'll start thinking, 'I'm not loving this. This is upsetting and hard. It must not be my passion.' That is not the right litmus test.'"
Source: The Pursuit of Excellence: The Uncommon Behaviors of the World's Most Productive Achievers by Ryan Hawk
II.
Stephen M. R. Covey on command and control:
"Command & Control is about getting things done, but it misses the potential power of the people who get those things done. Command & Control is about being efficient with people, trying to motivate them instead of inspiring them. It's about self-interest and competing rather than serving and caring. And if all else fails, it's about barking out the orders so everyone does exactly what they're supposed to do—not because they want to, but because they have to. In short, it's about controlling people instead of unleashing their potential."
Source: Trust and Inspire: How Truly Great Leaders Unleash Greatness in Others
* * *
Look for these ideas every Thursday on the Leading Blog. Find more ideas on the LeadingThoughts index.
* * *


Like us on
Instagram
and
Facebook
for additional leadership and personal development ideas.

Posted by Michael McKinney at 07:27 AM
Permalink | Comments (0) | This post is about Leading Thoughts