Leading Thoughts for May 26, 2022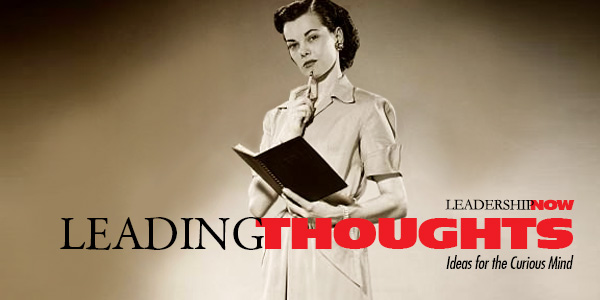 IDEAS shared have the power to expand perspectives, change thinking, and move lives. Here are two ideas for the curious mind to engage with:
I.
Former president, CEO, and chairman of Procter & Gamble, John Pepper on values:
"Over the years, I've seen that the strongest leaders are those who have enough confidence to seek input from others without losing the direction provided by their own internal compass. They understand that the objective of learning is not comfortable consensus. It is to make wiser, more informed choices."
Source: What Really Matters: Service, Leadership, People, and Values
II.
Ronald Heifetz and Marty Linsk on having compassion when leading change:
"The people who fight the hardest also have the most to lose; and therefore, they deserve the most time, attention, care, and skill."
Source: Leadership on the Line: Staying Alive through the Dangers of Leading
* * *
Look for these ideas every Thursday on the Leading Blog. Find more ideas on the LeadingThoughts index.
* * *


Like us on
Instagram
and
Facebook
for additional leadership and personal development ideas.

Posted by Michael McKinney at 07:32 AM
Permalink | Comments (0) | This post is about Leading Thoughts