Leading Thoughts for April 14, 2022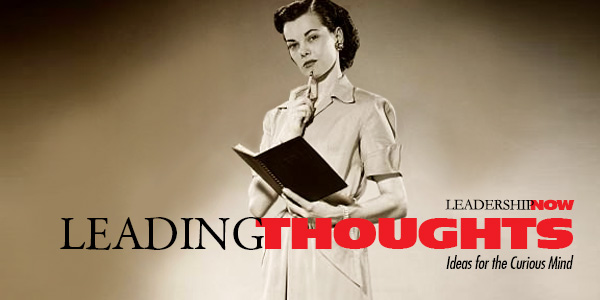 IDEAS shared have the power to expand perspectives, change thinking, and move lives. Here are two ideas for the curious mind to engage with:
I.
Creative director, designer, and agency owner Michael Janda believes every position can be electrifying:
"You don't have to be the art director, creative director, CTO, or VP of blah-de-blah agency to be a key member of a company. Any role, any position, in any organization can have a huge impact on the success of the organization. Throughout my career, I have seen junior programmers and junior designers make HUGE impacts on company success. By striving to maximize your contribution, regardless of the position you fill on the org chart, you can make an impact."
Source: Burn Your Portfolio: Stuff They Don't Teach You In Design School But Should
II.
The twentieth president of the United States, James A. Garfield, on the sovereignty of the family:
"There are several sovereignties in this country. First, the sovereignty of the American people, then the sovereignty nearest to us all—the sovereignty of the family, the absolute right of each family to control its affairs in accordance with the conscience and convictions of duty of the heads of the family. In the picture before us, that is bravely symbolized. I have no doubt the American people will always tenderly regard their household sovereignty, and however households may differ in their views and convictions, I believe that those differences will be respected. Each household, by following its own convictions, and holding itself responsible to God, will, I think, be respected by the American people."
Source: The Life and Work of James A. Garfield by John Clark Ridpath
* * *
Look for these ideas every Thursday on the Leading Blog. Find more ideas on the LeadingThoughts index.
* * *


Like us on
Instagram
and
Facebook
for additional leadership and personal development ideas.

Posted by Michael McKinney at 07:24 AM
Permalink | Comments (0) | This post is about Leading Thoughts