Leading Thoughts for February 3, 2022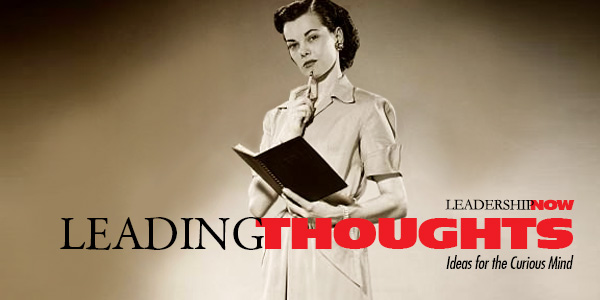 IDEAS shared have the power to expand perspectives, change thinking, and move lives. Here are two ideas for the curious mind to engage with:
I.
Manfred Kets de Vries on developing emotional intelligence:
"Certain kinds of learning can't be rushed; they have to be approached one step at a time. This is particularly true of becoming more emotionally attuned. To acquire this kind of knowledge, there are two secrets. The first is to have patience; the second is to be patient! Acquiring higher emotional intelligence—that is, gaining a better understanding of the psychodynamics of human behavior—is never instantaneous. Becoming more psychologically minded requires not only time, but also persistence. Patience and persistence can move mountains. They are the keys to becoming more emotionally astute."
Source: The Leader on the Couch: A Clinical Approach to Changing People & Organisations
II.
John Hagel III, John Seely Brown, and Lang Davison on the importance of serendipity:
"We need serendipitous encounters with people because of the importance of the ideas that these people carry with them and the connections they have. People carry tacit knowledge. You can't learn brain surgery just from a text. Nor can you learn how to make tasty homebrew without watching someone else carry out the process. In both cases, you've got to stand next to someone who already knows and learn by doing. Tacit knowledge exists only in people's heads. As edges arise ever more quickly, all of us must not only find the people who carry the new knowledge but get to know them well enough (and provide them with sufficient reciprocal value) that they're comfortable trying to share it with us."
Source: The Power of Pull: How Small Moves, Smartly Made, Can Set Big Things in Motion
* * *
Look for these ideas every Thursday on the Leading Blog. Find more ideas on the LeadingThoughts index.
* * *


Like us on
Instagram
and
Facebook
for additional leadership and personal development ideas.

Posted by Michael McKinney at 10:55 AM
Permalink | Comments (0) | This post is about Leading Thoughts