First Look: Leadership Books for February 2022
Here's a look at some of the best leadership books to be released in February 2022. Be sure to check out the other great titles being offered this month.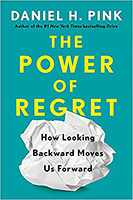 The Power of Regret: How Looking Backward Moves Us Forward by Daniel H. Pink
Everybody has regrets, Daniel H. Pink explains in The Power of Regret. They're a universal and healthy part of being human. And understanding how regret works can help us make smarter decisions, perform better at work and school, and bring greater meaning to our lives. Drawing on research in social psychology, neuroscience, and biology, Pink debunks the myth of the "no regrets" philosophy of life. And using the largest sampling of American attitudes about regret ever conducted as well as his own World Regret Survey—which has collected regrets from more than 15,000 people in 105 countries—he lays out the four core regrets that each of us has. These deep regrets offer compelling insights into how we live and how we can find a better path forward.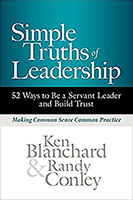 Simple Truths of Leadership: 52 Ways to Be a Servant Leader and Build Trust by Ken Blanchard and Randy Conley
Leadership legend and bestselling author Ken Blanchard and trust expert and thought leader Randy Conley present this carefully curated collection of fifty-two essential leadership principles that are easy to implement and practice. Effective leadership is an influence process where leaders implement everyday, commonsense approaches that help people and organizations thrive. Yet somehow, many of these fundamental principles are still missing from most workplaces. In Simple Truths of Leadership, legendary servant leadership expert Ken Blanchard, whose books have sold millions of copies worldwide, and his colleague Randy Conley, known and recognized for his many years of thought leadership and expertise in the field of trust, share fifty-two Simple Truths about leadership that will help leaders everywhere make commonsense leadership common practice.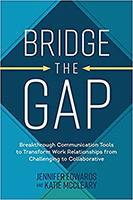 Bridge the Gap: Breakthrough Communication Tools to Transform Work Relationships From Challenging to Collaborative by Jennifer Edwards and Katie McCleary
Human beings are born to connect―but in today's increasingly polarized world, we're losing sight of the importance of building and maintaining professional relationships. And that's bad for business. In Bridge the Gap, two prominent Fortune 500 coaches explore how your biology and biography define and refine your behavior in relationships where you struggle to connect. Focusing on personal responsibility and awareness, meta-cognition, and curiosity, they provide a reliable and replicable framework to enhance open communication. And they illuminate the inner workings of the human brain and mind, and how they impact the way you connect, communicate, and collaborate.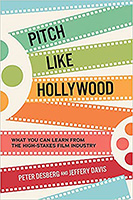 Pitch Like Hollywood: What You Can Learn from the High-Stakes Film Industry by Peter Desberg and Jeffrey Davis
From impromptu elevator pitches to full-board presentations, sales and marketing professionals face an "audience" daily―often with make-or-break consequences. As the person delivering the performance, you need to know you have a great script and are able to maintain composure throughout. In Pitch Like Hollywood, we learn how to up our game substantiall ―no matter what business we're in―by incorporating elements of a classic Hollywood pitch: driving emotion, piquing curiosity, and ultimately winning over decision makers with powerful persuasion and performance. They take us on an insider's tour of the entire process, from defining the fundamentals to designing effective presentation strategies to overcoming stage fright.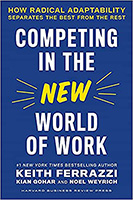 Competing in the New World of Work: How Radical Adaptability Separates the Best from the Rest by Keith Ferrazzi, Kian Gohar and Noel Weyrich
You've shed antiquated systems and processes. You went all-in on digital. Your teams settled into new, often better, ways of doing things. But did your organization change enough to stay competitive in the post-pandemic world? Did you fully leverage the once-in-a-lifetime opportunity to leap forward and grow stronger? Are you shaping the new environment to your advantage? If not, it's not too late to learn from the best. New York Times #1 bestselling author Keith Ferrazzi, along with coauthors Kian Gohar and Noel Weyrich, shows leaders how to shape their organizations and practices to remain competitive in a new, post-pandemic context.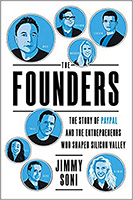 The Founders: The Story of Paypal and the Entrepreneurs Who Shaped Silicon Valley by Jimmy Soni
Today, PayPal's founders and earliest employees are considered the technology industry's most powerful network. Since leaving PayPal, they have formed, funded, and advised the leading companies of our era, including Tesla, Facebook, YouTube, SpaceX, Yelp, Palantir, and LinkedIn, among many others. As a group, they have driven twenty-first-century innovation and entrepreneurship. Their names stir passions; they're as controversial as they are admired. In building what became one of the world's foremost companies, they faced bruising competition, internal strife, the emergence of widespread online fraud, and the devastating dot-com bust of the 2000s. Their success was anything but certain. In The Founders, award-winning author and biographer Jimmy Soni explores PayPal's turbulent early days. With hundreds of interviews and unprecedented access to thousands of pages of internal material, he shows how the seeds of so much of what shapes our world today—fast-scaling digital start-ups, cashless currency concepts, mobile money transfer—were planted two decades ago. He also reveals the stories of countless individuals who were left out of the front-page features and banner headlines but who were central to PayPal's success.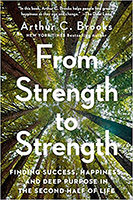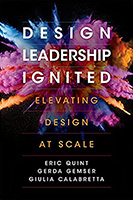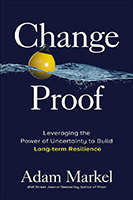 For bulk orders call 1-626-441-2024

Build your leadership library with these specials on over 28 titles. All titles are at least 40% off the list price and are available only in limited quantities.
* * *
"He that loves a book will never want a faithful friend, a wholesome counselor, a cheerful companion, an effectual comforter. By study, by reading, by thinking, one may innocently divert and pleasantly entertain himself, as in all weathers, as in all fortunes."
— Isaac Barrow
* * *


Follow us on
Instagram
and
Twitter
for additional leadership and personal development ideas.

Posted by Michael McKinney at 12:08 AM
Permalink | Comments (0) | This post is about Books