Leading Thoughts for November 25, 2021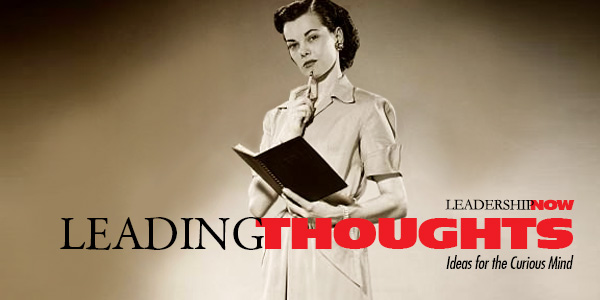 IDEAS shared have the power to expand perspectives, change thinking, and move lives. Here are two ideas for the curious mind to engage with:
I.
Pastor Will Johns on seeing the world through the lens of gratitude:
"Gratitude is a lens that changes the perception of everything in your life. Your world will be transformed. You will begin to see good things you've never noticed before. You will begin to feel joy for things in your life you knew were good but never fully appreciated. You will be able to count your blessings even during difficult circumstances. Gratitude will affect your essential perspective of and attitude toward life. And it will bring you the happiness you have been seeking your entire life. However, it doesn't happen naturally."
Source: Everything is Better Than You Think: How Gratitude Can Transform Your Life
II.
Adrian Gostick and Chester Elton on how the best leaders know how people contribute and actively look for reasons to express gratitude:
"It is about seeing good things happening and then expressing heartfelt appreciation for the right behaviors. On the flip side, managers who lack gratitude suffer, first and foremost, from a problem of cognition—a failure to perceive how hard their people are trying to do good work—and, if they're encountering problems, what they are. These ungrateful leaders suffer from information deficit."
Source: Leading with Gratitude: Eight Leadership Practices for Extraordinary Business Results
* * *
Look for these ideas every Thursday on the Leading Blog. Find more ideas on the LeadingThoughts index.
* * *


Like us on
Instagram
and
Facebook
for additional leadership and personal development ideas.

Posted by Michael McKinney at 09:41 AM
Permalink | Comments (0) | This post is about Leading Thoughts