Leading Thoughts for November 18, 2021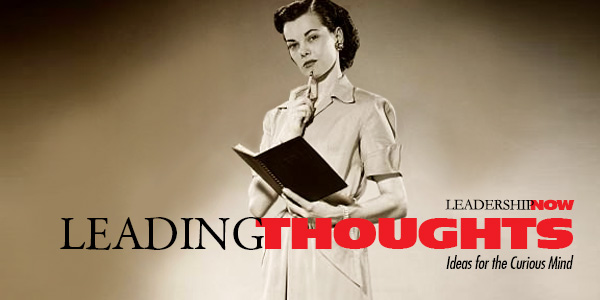 IDEAS shared have the power to expand perspectives, change thinking, and move lives. Here are two ideas for the curious mind to engage with:
I.
Liz Wiseman describes a practice of Impact Players:
"Impact Players practice a fluid model of leadership—leading on demand rather than by command. They take their cues from the situation, stepping up when needed, but when their stewardship is fulfilled, they step back and follow others with equal ease. While others wait for direction, Impact Players step up and lead."
Source: Impact Players: How to Take the Lead, Play Bigger, and Multiply Your Impact
II.
Peter Senge on getting to the root of the issue:
"The bottom line of systems thinking is leverage—seeing where actions and changes in structures can lead to significant, enduring improvements. Often leverage follows the principle of economy of means: where the best results come not from large-scale efforts but from small well-focused actions. Our non-systematic ways of thinking are so damaging specifically because they consistently lead us to focus on low leverage changes: we focus on symptoms where the stress is greatest. We repair or ameliorate the symptoms. But such efforts only make matters better in the short run, at best, and worse in the long run.

"It's hard to disagree with the principle of leverage. But the leverage in most real-life systems, such as most organizations, is not obvious to most of the actors in those systems. They don't see the 'structures' underlying their actions."
Source: The Fifth Discipline: The Art and Practice of the Learning Organization
* * *
Look for these ideas every Thursday on the Leading Blog. Find more ideas on the LeadingThoughts index.
* * *


Like us on
Instagram
and
Facebook
for additional leadership and personal development ideas.

Posted by Michael McKinney at 11:10 AM
Permalink | Comments (0) | This post is about Leading Thoughts