The Courage to Lead with Character and Resiliency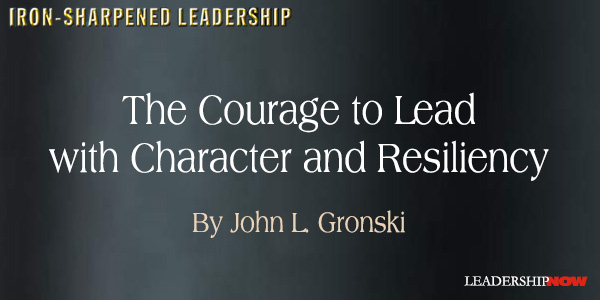 TAKING ON A POSITION of leadership comes with assuming risk, encountering organizational challenges, and being a moral role model for an organization. I believe a person who is not willing to make the sacrifice to take on such a role should step aside and let someone else do it. Three attributes that are critical to taking on the mantle of leadership are decision-making, resiliency, and character.
Leaders must have the courage to make decisions with well less than perfect information. Jack Welch, who led General Electric as its CEO from 1981 to 2001observed that mid-level leaders at GE struggled with having the courage to make a decision. Rarely does a leader have the luxury of making a decision with 100% of the information available. Still, a leader must decide. If a leader waits while trying to gain perfect information, he or she will lose an opportunity.
Leaders who have led organizations for almost any period of time all have one thing in common. They have had to face adversity at some point and guide the organization through challenging waters. This takes resiliency on the part of a leader, and it takes a leadership approach that helps build resiliency among the team and the organization itself.
Character is the foundation of leadership. Although toxic leaders might achieve some success over the short term, it is character-based, servant leaders with strong values who gain sustained success and results.
Escape To Freedom
A soldier I met at a Vietnam War commemoration ceremony several years ago has a story that exemplifies decision-making, resiliency, and character in spades. As I mingled with members of the crowd at the ceremony, I happened upon a man that was wearing a U.S. Army dress uniform. He wore the rank of Chief Warrant Officer 3 and had pilot wings on his chest. I asked if he had served in Vietnam and he gave me a curious answer.
He said he served in Vietnam but not as a U.S. Soldier. He explained that as a soldier in the South Vietnamese Army he fought alongside the U.S. Army, flying UH-1 helicopters. The UH-1 helicopter is also known more affectionately as the Huey.
CW3 Chieu Le then went on to tell me the rest of his story. He was in Saigon on April 30, 1975, the day the U.S. Embassy in Saigon fell. Since he fought alongside U.S. Forces, he knew that if he were captured by North Vietnamese soldiers entering the city he would be put to death or severely tortured.
He made a decision. He fired up a Huey helicopter. By the time he began to lift off the ground about 20 others were clinging to the helicopter as it sputtered into the air. Le had no flight plan and really no idea where to fly to. This was not a pre-planned mission, and no one designated a route or objective. His intent was to succeed, not to fail, even though this was an extremely risky venture. As he applied power to the engine of the chopper, he whispered a prayer to his higher power to mitigate the risk.
He began flying east over the South China Sea. He could not hide his anxiety as he talked into the radio handset, he held in the palm of his sweating hand. He began to transmit over the radio as he watched the South China Sea pass below him. He used the distress call that first originated at Croydon Airport in London in 1921 and that is still used today. Le called out, "Mayday, mayday!" He followed by letting whoever he hoped was listening know that he was the flight of freedom. He called out over and over, "Mayday, mayday, this is the flight of freedom."
He could see the needle on his fuel gauge point closer to empty as he flew over the endless sea below. Finally, he received a reply. It was the USS Midway, conducting operations in the northern area of the South China Sea. The Midway vectored Le and the passengers he carried toward the ship and Le hit the carrier deck harder than he expected with his chopper literally flying on fumes. As he exited his helicopter Le wanted to hug every crew member on that ship. The ship's crew escorted Le to a bunk so he could get some rest. As he drifted off to sleep, Le made sure he thanked that same higher power he prayed to as he began his flight of freedom.
Le made his way from the Midway to a refugee camp in Austria, then to a refugee camp in Arizona, and finally, he made his way to a refugee camp at Ft. Indiantown Gap, Pennsylvania. It was in Pennsylvania that he put roots down. He joined the Pennsylvania Army National Guard and was proud to wear the uniform of the country he had fought alongside in southeast Asia. He became qualified to fly the Huey again and rose to the rank of Chief Warrant 3 before he retired from the military with well over 20 years of faithful service.
Le is a leader who made a courageous decision when the outcome was uncertain. He proved to be resilient, not only during his flight of freedom, but afterward as he made his way from one refugee camp to another. He continuing to show the positive energy, fitness, and spirit of vulnerability that allowed him to overcome challenges that probably would have been too much for many others to bear. Finally, he demonstrated strong character and values. He cared about others as evidenced by the risk he took to fly over 20 other people to safety on that fateful day in April 1975.
But there is another element to this story and that is the necessity of "team." Although it might appear that Le accomplished a great feat alone, he will be the first to tell you that is not the case. He will tell you the back story about the maintenance crew that had prepared his Huey, so it was able to make the audacious flight. The crew on the Midway answered his distress call and then calmly guided him in and assisted with his landing on the deck of the carrier as the fuel tank on his helicopter ran dry. There were teams at the refugee camps who provided for his basic needs. Finally, he was able to join one of the finest team of teams in the Pennsylvania Army National Guard.
Ultimate success is never about one person, but it is about a team working together to bring a vision to a successful conclusion. The story of Le's escape toward freedom and his accomplishments afterward is a story of courage, resiliency, and character that all leaders would do well to learn from. Le had the courage to lead.
* * *

Major General
John Gronski
(USA, Ret) is the CEO of
Leader Grove
, and is an inspirational speaker, leadership consultant, executive coach, and author. John retired from the Army after forty years of service on active duty and in the Pennsylvania National Guard. He is a decorated combat veteran. In the civilian sector John has led diverse teams implementing large, complex projects. His book,
Iron-Sharpened Leadership: Transforming Hard-Fought Lessons into Action
, takes a values-based approach to leadership effectiveness and the book is oriented along the lines of his leadership philosophy which includes character, competence, and resilience.
* * *


Like us on
Instagram
and
Facebook
for additional leadership and personal development ideas.
* * *


Posted by Michael McKinney at 08:33 AM
Permalink | Comments (0) | This post is about Personal Development