Never Say Never: The Importance of Word Choice in Leadership Communication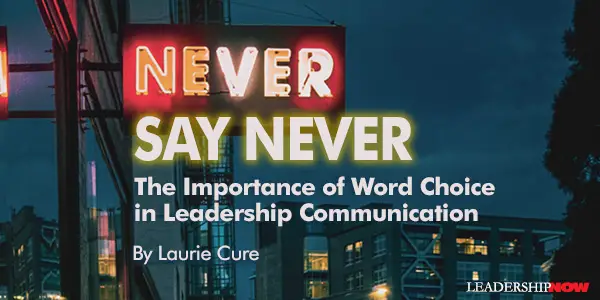 LANGUAGE matters.
As I conduct observation coaching with leaders, I watch for how their words resonate with their audience. Does what they say induce fear? Excitement? Do attendees in the meeting cringe at certain words, or do their metaphors generate inspiration?
Effective leaders use communication as a critical competency to build trusting relationships, align team members around a vision, lead necessary change, and drive action. Communication involves verbal, non-verbal, and intuitive delivery and receiving of messages. It also requires listening and speaking with intention. In support of that, the communication process typically involves five critical steps.
Source: the sender of the message who is communicating
Encoding: the way a sender frames a message into an easily understood format that can be sent and received. This step requires the sender to know their audience and convey their message clearly and concisely to support understanding.
Channel: how you deliver your message (i.e., verbally through a meeting, phone calls, video conferencing, written, emails, memo,s text, and social media).
Decoding: occurs when the receiver actively listens to a message to ensure accurate transmission and interpretation.
Receiver: Receives the message and brings their own perspectives, experience, feelings, and histories that impact how a message is received.
Any missteps, gaps, or errors in these stages can lead to a serious breakdown in the communication cycle. It can destroy relationships, damage trust, and contribute to adverse impacts on business outcomes. In medicine, law enforcement, education, and almost every profession, communication failures lead to lasting negative impacts.
The best leaders maneuver these five steps in a way that leaves their teams feeling heard, understood, and valued. To accomplish this, leaders have a responsibility to ensure they are appropriately using every step of the communication cycle to deliver an accurate message.
Effective communication is difficult for a variety of reasons. Our lack of knowledge around cultural differences, as well as human factors such as stress, fatigue, and communication skills, all play a role in the potential breakdown of communication. Today, there is an emphasis on rapid decision making, and fast-paced problem solving that often involve many parties and differing perspectives.
Given these variables, there are several things to keep in mind to avoid communication breakdown.
1. Avoid Certain Words
There are words that create a negative emotional reaction regardless of the intent behind the word. We certainly do not need to eliminate all these words, but carefully considering your purpose, tone, and the desired reaction can ensure these words do not leave others frustrated or disengaged.
Why
"Why did you do that?" "Why didn't you just do this?" "Why wouldn't you just . . .?"

When we start a sentence with why, we are often seeking clarity. However, "why" can cause people to become immediately defensive, guarded and feel they need to justify their actions. In an effort to protect themselves, fight or flight kicks in and you do not get the best response or discussion. While there are times when this is the most appropriate word to bring forth, be cautious about when and how you use it and pay attention to the reaction in others.


Just
This word becomes problematic when we use it in the context of people. For example, "Pat is just our assistant," "You need to just figure it out," or "Just wondering if you've looked at the proposal."

When we use the term in these contexts, it can be demeaning and diminishes the role, effort, and value of others. Leaders who inadvertently use this language risk diminishing confidence and value amongst their team members, even when the statement is not sent directly to one of them. Using just risks making others feel insignificant.


But
The dreaded but. "You did a great job, but" "Sorry I'm late, but" or "I wanted to help, but." When we use this term, often, it negates the phrase before it. When we issue a compliment, followed by but, the listener only hears the criticism that follows, and the previous statement is lost. It can feel critical and take on a tone that lacks accountability.

Often, we can replace the word in our language with "and" instead. This simple switch will elevate how people feel about your comments and feedback. Try it.
2. Be Cautious When Using Idioms
I have made this mistake too many times to count. Recently, I met with a partner from France. I used the idiom, "let me put a bug in your ear," to share an idea I wanted her to consider. That phrase was unfamiliar to her, and my intention was lost on her.
While idioms seem helpful to make a point, there is also a significant risk that they originated and have a history that is different than your intention in today's world. Ethic, cultural, racial, or religious idioms that were accepted and used in the past may no longer be appropriate today.
3. Avoid Absolutes
"Nobody does it better," or "I have the best employee/team." Again, while this is often used to elevate those close to us, it generally has the effect of alienating others and diminishing their skills and abilities. Additionally, terms like all, none, must, never, only, always can be hooks. They have no exceptions and do not leave room for error or discussion. They can be taken as condensing and make others feel inferior.
The words we use matter, especially in a leadership role where our teams regularly react and listen closely to what we share. Start paying attention to the reactions you receive when speaking and cut out the words and phrases that are spurring a negative response.
* * *

Laurie Cure
is the President and CEO of Innovative Connections. Her focus is consulting in strategic planning, organizational development, talent management, and leadership, including change management and culture evolution. With more than 25 years of leadership experience, she has dedicated her career to delivering strategic visions, working with executives/senior leaders to drive organizational outcomes, and researching and publishing on important industry issues and topics. She is the author of
Leading without Fear
, about overcoming fear in the workplace. You can connect with her on her
website
and on
LinkedIn
* * *


Like us on
Instagram
and
Facebook
for additional leadership and personal development ideas.

Posted by Michael McKinney at 09:25 AM
Permalink | Comments (0) | This post is about