It's Time to Focus on Projects, Not Ideas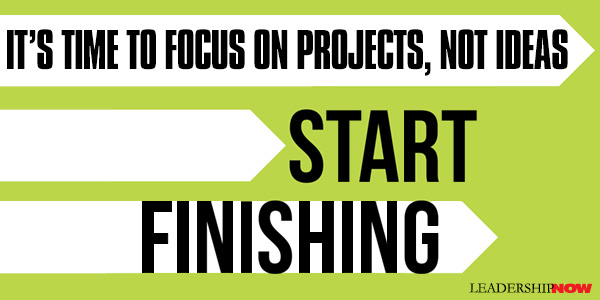 WE get distracted from what matters to us by our personal projects. Charlie Gilkey says in Start Finishing that a project is "anything that takes time, energy, and attention to complete." There are projects that keep us busy, and then there are projects that help us thrive—get us to the next level.
To get to the place where our soul longs to be, we're going to have to convert our ideas into doable projects at the same time that we're going have to get real about all the projects we are doing. The problem isn't that we're lazy or incapable—it's just that we're not doing the work that's going to enable us to thrive.

Luckily, you already know the doing you need to do to move you toward thriving. Yes, it's tied to the idea that's nagging you.
To get moving, we will need to find a place in our schedule for our best projects—the ones that make us thrive. The reality of finite time means we have to choose what is most important to us here and now. To make that happen, we need intention, awareness of ourselves in relation to our work, boundaries, the courage to move forward, and discipline. (IABCD if you are into that) "Our innate talent, creativity, and drive combined with discipline are what make us forces of nature."
There are consequences to not doing our best work. We wither, and we begin to suffer from creative constipation.
Creative constipation is exactly what it sounds like. We take in ideas and inspiration that get converted into aspirations, goals, and projects, and at a certain point, if we're not pushing them out in the form of finished projects, they start to back up on us.

And like physical constipation, at a certain point, we get toxic. We don't want to take in any more ideas. We don't want to do any more projects. We don't want to set any more goals or plans. We're full and fed up.

That inner toxicity becomes the broth that flavors all our stories about ourselves and the world; your head trash gets more pronounced and intense, and what we see in the world goes from bright to dark. Creative constipation leads o behaviors in which we lash out at the world—and sometimes even more intensely at ourselves. We become resentful of other—even people we love—who are doing their best work.
Gilkey covers how to make space for your project and the obstacles that get in the way of that and how to work your plan.
Start finishing today.
* * *


Like us on
Instagram
and
Facebook
for additional leadership and personal development ideas.
* * *


Posted by Michael McKinney at 08:16 AM
Permalink | Comments (0) | This post is about Personal Development