How Your Bright Shiny Objects Derail Your Team — and Damage the Business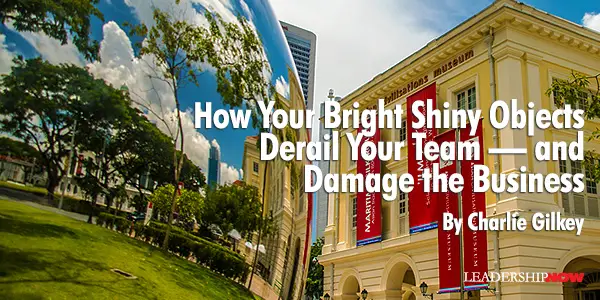 IN COACHING VISIONARY LEADERS, I hear a common pain point: Their team isn't moving fast enough or focusing on the right things. As we dig deeper, however, we inevitably discover that their team isn't the problem. Instead, it's their own preoccupation with bright shiny objects — or what I call BSOs.
From madcap product ideas to mythic mergers, BSOs can run the gamut. All the same, they're a challenge for visionary leaders. No doubt, their ability to bridge the gap between unlimited possibility and reality is a critical skill. But, when left unchecked, their attraction to BSOs often hurts their teams, usually by derailing their work with needless obstacles.
Even more critically, BSOs have the propensity to damage the business. How? By introducing ideas that should have never been considered in the first place. After all, just because something could be done doesn't mean it should be done.
If you're a visionary leader, and can admit to loving BSOs, you most likely need a process to better understand, manage, and vet them.
Ask yourself questions
Imagine a typical Monday morning huddle. Your team is busy discussing current or upcoming projects and priorities. Then, with unbridled exuberance, you storm in and say, "I've got an amazing idea." Unbeknownst to you, it's like you just lobbed a bomb onto the team. Now, to indulge your BSO, they lose their energy and focus.
So how can you tell when you've just lobbed a BSO onto your team? Stunned silence. Rolling eyes. Icy stares. Crossed arms. A barrage of questions. Those are only some of the signs. Plus, under their breath, people are probably muttering some kind of rebuke. "Are you kidding me?" "Oh, come on. Seriously?" "Here we go again." "But what about…?" Et cetera.
To avoid such an experience — let alone not derail your team — make a habit of first asking yourself a few questions about your current BSO. Consider these five to start:
1. How does this align with the business's current strategies and priorities?
2. How would doing this affect other, more important work?
3. What business concerns would this solve, and do we already have other, potentially better solutions in place?
4. If this is actually something we should do, what is the best timing — to do it now or to wait until some other business priorities have been met?
5. Who can I run this by before lobbing it onto my team?
Enlist a "voice of no"
At some point, most visionary leaders learn that they need a COO or other common-sense leader to counterbalance their BSOs. I call such a person a "voice of no."
So, when a visionary leader brings up a BSO, her voice of no might say, "Here's why we can't do that right now" or "Here's what must happen first." In this way, a voice of no protects a leader's team from creative mayhem while also not stifling the leader's visionary proclivities.
In considering a COO or a voice of no, look for someone who clearly gets the importance of focus, continuity, and business priorities, and who seems to have a "less is more" mindset — preferring to do fewer things very well than to do many things ineffectively.
If you're not in a position to bring in a COO or a voice of no, you can develop your team to take on the role. This, however, will require you to openly acknowledge your BSO inclinations, to have clear-cut business imperatives, to give people the authority and freedom to 'gut check' your ideas, and to make room in meetings for real, strategic conversations.
Have a vetting process
It took me years to recognize my own insatiable appetite for BSOs. The good news is I now have a simple process in place to properly vet my BSOs and, in doing so, to protect my team from any "incoming."
To start vetting your own BSOs, I suggest these four steps:
1. Find a sounding board.
Seek out someone thoughtful and measured, inside or outside the business but not on your team, to serve as your sounding board. Look for someone who you can trust and feel comfortable with to casually bounce around ideas and, equally important, who is fully capable of being candid with you. For me, that's my business partner and wife, Angela, who also acts as my voice of no. If she isn't convinced, I know to let go of a BSO or at least put it on ice.
2. Put your idea in writing.
If your idea seems workable after bouncing it off your sounding board, put it in writing. This needn't be pretty or take up much time. Just create a skeleton with your rough thoughts and some preliminary goals. The point here is to simply flesh out your idea enough to be easily articulated and understood.
3. Seek first-round feedback.
Once you've put your idea in writing, go back to your sounding board and one or two other people (but, again, no one on your team). Ask for feedback, both positive and negative, on your thought process and on the clarity and viability of your idea. Take this input to heart and then create a tighter, slightly more formal document.
4. Approach your team.
At this point, your idea has gone from being a BSO to something much more tangible and well thought out. So, finally, it's time to go ahead and bring the idea to your team. I suggest giving them a few days or even a week to read and mull everything over, and also scheduling a meeting to discuss their feedback and, if appropriate, consider the way forward. Also, be sure to remind people that they have the authority and freedom to push back on your idea and even act as a voice of no.
And last but not least, remember that your team is only as effective and successful as your leadership. By learning to understand, manage, and vet your BSOs, you'll help your team to move fast — and focus on the right things.
* * *

Charlie Gilkey
is an author, entrepreneur, philosopher, Army veteran, and renowned productivity expert. Founder of
Productive Flourishing
, Gilkey helps professional creatives, leaders, and changemakers take meaningful action on work that matters. His book is
Start Finishing: How to Go from Idea to Done
.
* * *


Like us on
Instagram
and
Facebook
for additional leadership and personal development ideas.
* * *


Posted by Michael McKinney at 12:12 AM
Permalink | Comments (0) | This post is about Vision