First Look: Leadership Books for September 2020
Here's a look at some of the best leadership books to be released in September 2020. Don't miss out on other great new and future releases not listed here.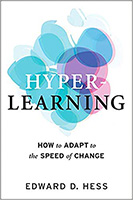 Hyper-Learning: How to Adapt to the Speed of Change by Edward D. Hess
The Digital Age will raise the question of how we humans will stay relevant in the workplace. To stay relevant, we have to be able to excel cognitively, behaviorally, and emotionally in ways that technology can't. Professor Ed Hess believes that requires us to become Hyper-Learners: continuously learning, unlearning, and relearning at the speed of change. To do that, we have to overcome our reflexive ways of being: seeking confirmation of what we believe, emotionally defending our beliefs and our ego, and seeking cohesiveness of our mental models. Hyper-Learning requires a new way of being and a radical new way of working.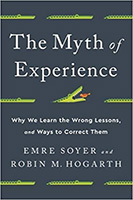 The Myth of Experience: Why We Learn the Wrong Lessons, and Ways to Correct Them by Emre Soyer and Robin Hogarth
Our personal experience is key to who we are and what we do. We judge others by their experience and are judged by ours. Society venerates experience. From doctors to teachers to managers to presidents, the more experience the better. It's not surprising then, that we often fall back on experience when making decisions, an easy way to make judgements about the future, a constant teacher that provides clear lessons. Yet, this intuitive reliance on experience is misplaced. In The Myth of Experience, behavioral scientists Emre Soyer and Robin Hogarth take a transformative look at experience and the many ways it deceives and misleads us. From distorting the past to limiting creativity to reducing happiness, experience can cause misperceptions and then reinforce them without our awareness. Instead, the authors argue for a nuanced approach, where a healthy skepticism toward the lessons of experience results in more reliable decisions and sustainable growth.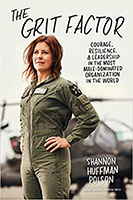 The Grit Factor: Courage, Resilience, and Leadership in the Most Male-Dominated Organization in the World by Shannon Huffman Polson
At age nineteen, Shannon Huffman Polson became the youngest woman ever to climb Denali, the highest mountain in North America. She went on to reach the summits of Mt. Rainier and Mt. Kilimanjaro and spent more than a decade traveling the world. Yet it was during her experience serving as one of the Army's first female attack helicopter pilots, and eventually leading an Apache flight platoon on deployment to Bosnia-Herzegovina, that she learned the lessons of leadership that forever changed her life. Where did these insights come from? From her own crucibles of experience—and from other women. In writing The Grit Factor, Polson made it her mission to connect with an elite pack of tough, impressive female iconoclasts who shared with her their candid stories of combat and career. With its gripping narrative and relatable takeaways, The Grit Factor is both inspiring and pragmatic, a book that will energize and enlighten current and aspiring leaders everywhere—whether male or female.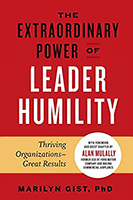 The Extraordinary Power of Leader Humility: Thriving Organizations & Great Results by Marilyn Gist PhD
On the most fundamental level, leaders must bring divergent groups together and forge a consensus on a path forward. But what makes that possible? Humility—a deep regard for the dignity of others—is the key, says distinguished leadership educator Marilyn Gist. Leadership is a relationship, and humility is the foundation for all healthy relationships. Leader humility can increase engagement and retention. It inspires and motivates. Gist offers a model of leader humility derived from three questions people ask of their leaders: Who are you? Where are we going? Do you see me? She explores each of these questions in depth, as well as the six key qualities of leader humility: a balanced ego, integrity, a compelling vision, ethical strategies, generous inclusion, and a developmental focus.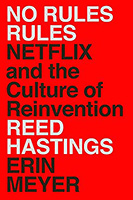 No Rules Rules: Netflix and the Culture of Reinvention by Reed Hastings and Erin Meyer
Here for the first time, Hastings and Erin Meyer, bestselling author of The Culture Map and one of the world's most influential business thinkers, dive deep into the controversial ideologies at the heart of the Netflix psyche, which have generated results that are the envy of the business world. Drawing on hundreds of interviews with current and past Netflix employees from around the globe and never-before-told stories of trial and error from Hastings's own career, No Rules Rules is the fascinating and untold account of the philosophy behind one of the world's most innovative, imaginative, and successful companies.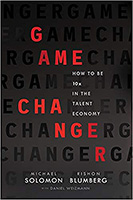 Game Changer: How to Be 10x in the Talent Economy by Michael Solomon, Rishon Blumberg with Daniel Weizmann
Whether you're an employer, an employee, a freelancer, or part of a management team, it's important to understand how—now, more than ever—highly skilled 10x talent who can deliver exponential value is radically shifting the dynamics of corporations large and small. Use this groundbreaking book to learn how to identify, attract, vet, employ, manage, and retain—or become—the game-changing talent that will make a difference in the work world of tomorrow. Individuals, companies and governments around the globe need to understand what tactics are required to survive and thrive in an increasingly global, automated, and post pandemic, distributed economy. The lessons presented in Game Changer reveal those tactics for any industry.

For bulk orders call 1-626-441-2024

Build your leadership library with these specials on over 32 titles. All titles are at least 40% off the list price and are available only in limited quantities.
* * *
"Reading is the nourishment that lets you do interesting work."
— Jennifer Egan
* * *


Like us on
Instagram
and
Facebook
for additional leadership and personal development ideas.

Posted by Michael McKinney at 07:12 AM
Permalink | Comments (0) | This post is about Books