First Look: Leadership Books for August 2020
Here's a look at some of the best leadership books to be released in August 2020. Don't miss out on other great new and future releases not listed here.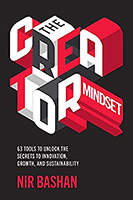 The Creator Mindset: 63 Tools to Unlock the Secrets to Innovation, Growth, and Sustainability by Nir Bashan
Creativity isn't a "nice to have" leadership trait. It's the key to success in every workplace and all industries. Learn to access yours, now―even if you don't think you're a "creative" person. From B-school through the big leagues, the business world often places value on logic and analysis. But on creativity? Not so much. And this, according to Nir Bashan, is a recipe for disaster. What gets the ball rolling when we're feeling stuck in our careers? Why is my company not growing or reaching higher levels of profitability? What's the difference between a workable plan and a stroke of genius? The answer is creativity―and it's the missing ingredient for far too many of us who feel we're not reaching our creative potential (or doubt we have it in the first place).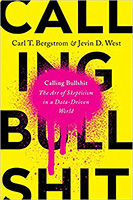 Calling Bullshit: The Art of Skepticism in a Data-Driven World by Carl T. Bergstrom and Jevin D. West
Bullshit isn't what it used to be. Now, two science professors give us the tools to dismantle misinformation and think clearly in a world of fake news and bad data. Misinformation, disinformation, and fake news abound and it's increasingly difficult to know what's true. Our media environment has become hyperpartisan. Science is conducted by press release. Startup culture elevates bullshit to high art. We are fairly well equipped to spot the sort of old-school bullshit that is based in fancy rhetoric and weasel words, but most of us don't feel qualified to challenge the avalanche of new-school bullshit presented in the language of math, science, or statistics. In Calling Bullshit, Professors Carl Bergstrom and Jevin West give us a set of powerful tools to cut through the most intimidating data.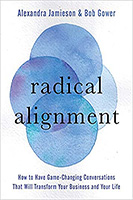 Radical Alignment: How to Have Game-Changing Conversations That Will Transform Your Business and Your Life by Alexandra Jamieson and Bob Gower
Why do so many organizations, teams, couples, families, and groups who should be working together end up wasting energy on unproductive conflict? Even when everyone has the same general goals, what's often missing is a deeper alignment based on mutual trust, respect, and empathy. With Radical Alignment, top-level life and business coaches (and happily married couple) Alexandra Jamieson and Bob Gower share their potent method for helping groups to stop clashing and start working together―to jump from "we can't" to an enthusiastic "hell yes!" The essential tool at the heart of Radical Alignment is the All-In Method: a four-step approach to communication designed to increase clarity, minimize miscommunication, honor each person's individuality, and build a shared sense of trust and respect for long-term success.

Grasp: The Science Transforming How We Learn by Sanjay Sarma with Luke Yoquinto
A groundbreaking look at the science of learning—how it's transforming education and how we can use it to discover our true potential, as individuals and across society by a renowned MIT professor. As the head of Open Learning at MIT, Sanjay Sarma has a daunting job description: to fling open the doors of the MIT experience for the benefit of the wider world. But if you're going to undertake such an ambitious project, it behooves you to ask: How exactly does learning work? What conditions are most conducive? Are our traditional classroom methods—lecture, homework, test, repeat—actually effective? And if not, which techniques are? Along the way, Sarma debunks long-held views (such as the noxious idea of "learning styles"), while equipping readers with a set of practical tools for absorbing and retaining information across a lifetime. He presents a vision for learning that's more inclusive and democratic—revealing a world bursting with powerful learners, just waiting for the chance they deserve.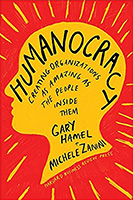 Humanocracy: Creating Organizations as Amazing as the People Inside Them by Gary Hamel and Michele Zanini
In Humanocracy, Gary Hamel and Michele Zanini make a passionate, data-driven argument for excising bureaucracy and replacing it with something better. Drawing on more than a decade of research and packed with practical examples, Humanocracy lays out a detailed blueprint for creating organizations that are as inspired and ingenious as the human beings inside them. Whatever your role or title, Humanocracy will show you how to launch an unstoppable movement to equip and empower everyone in your organization to be their best and to do their best. The ultimate prize: an organization that's fit for the future and fit for human beings.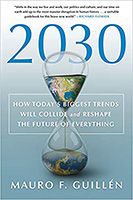 2030: How Today's Biggest Trends Will Collide and Reshape the Future of Everything by Mauro F. Guillen
The world is changing drastically before our eyes―will you be prepared for what comes next? A groundbreaking analysis from one of the world's foremost experts on global trends, including analysis on how COVID-19 will amplify and accelerate each of these changes. Once upon a time, the world was neatly divided into prosperous and backward economies. Babies were plentiful, workers outnumbered retirees, and people aspiring towards the middle class yearned to own homes and cars. Companies didn't need to see any further than Europe and the United States to do well. Printed money was legal tender for all debts, public and private. We grew up learning how to "play the game," and we expected the rules to remain the same as we took our first job, started a family, saw our children grow up, and went into retirement with our finances secure. That world―and those rules―are over.

For bulk orders call 1-626-441-2024

Build your leadership library with these specials on over 32 titles. All titles are at least 40% off the list price and are available only in limited quantities.
* * *
"Reading is the nourishment that lets you do interesting work."
— Jennifer Egan
* * *


Like us on
Instagram
and
Facebook
for additional leadership and personal development ideas.

Posted by Michael McKinney at 06:05 AM
Permalink | Comments (0) | This post is about Books