The 9 Strategies of Emotionally Intelligent Leadership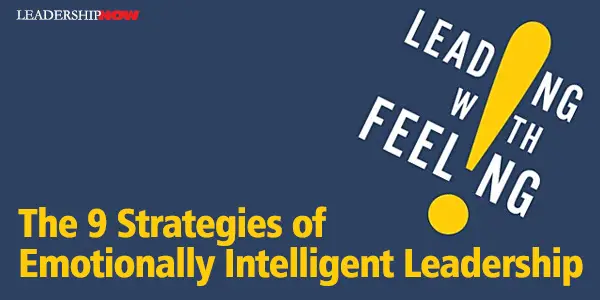 EMOTIONAL INTELLIGENCE is a prerequisite to good leadership. To attempt to lead without it is self-serving. It may get the job done, but it's all about you. It's not the kind of leadership that brings others along.
Emotional intelligence (EI) is an awareness of not only our own but other's emotions and the ability to manage those emotions in ways that help people move ahead in dealing with difficult situations.
In Leading with Feeling, Cary Cherniss and Cornelia Roche worked with 25 leaders to analyze how they actually used their EI to deal with challenges and build relationships with others. They observed abilities and competencies common to leaders who have EI. Breaking that down from a practical perspective, they were able to outline nine practical strategies for understanding and developing EI.
The first two strategies provide the foundation that the other practices build on. One must first acknowledge the emotional climate they are dealing with. And this not really a once and done step. It is ongoing as emotions change over time.
1. Monitor the Emotional Climate
Most of the outstanding leaders were not just aware of their emotions or skillful in identifying what emotions other people were experiencing. They actively looked for subtle signs of emotion in order to influence the course of events. It was an active, purposeful process, and when they detected a potential problem, such as discouragement among the top management team spilling over and infecting the rest of the employees, they took action.
This is not to say a leader succumbs to the same emotions, but awareness allows them to deal with the situation more effectively.
2. Express Your Feelings to Motivate Others
Knowing your own feelings allows you to manage them and present them constructively so that you set the right tone. In my view, wearing your emotions on your sleeve is not appropriate for a leader.
Leaders ideally should maintain an even keel in order to help others manage their own emotions. In short, it is usually better for leaders to express emotion but maintain control.
In one example, "Yolanda did not try to minimize the emotions stirred up by this situation. She actively engaged with those emotions and with those who were feeling them. She allowed herself to feel the emotions and then used the emotions to guide her own actions."
3. Consider How Your Own Behavior Influences Others' Emotions
This is a critical component of self-awareness and emotional intelligence. It is not a manipulation to understand that our words and actions can dramatically impact the emotions of our team for better or worse. For instance, "when leaders become angry, they tend to discourage their subordinates from sharing valuable information with them" to their own ruin. It behooves any leader to take measures and a thoughtful approach in anticipating what their team needs.
4. Put Yourself in Others' Shoes
Emotionally intelligent leaders try to gain the perspective of others to get a fuller take on the situation. It leads to better decisions. Doing this is best done face-to-face.
All people like to be respected and understood. An awareness of their experiences is a show of respect and gets to not just the how but the why of people's feelings. This strategy helps to increase empathy "which contributed to better relationships, but it also contributed to better analysis and action."
5. Use Your Understanding of Emotion to Figure Out the Underlying Dynamics of a Situation
What are their feelings telling us? There is often more to a person's emotions than what we see on the surface or the emotional dynamics of the situation. This is important to decipher organizationally before implementing a change program.
6. Reframe How You Think About the Situation
It is critical to remember that "the way in which one thinks about people and situations affects the way in which one manages emotions."
We found that the leaders in our study reframed the way they thought about emotions in five different ways:
They expected the world to be complicated and messy
Rather than playing the blame game, they looked at factors in the situation that might be causing, triggering, exacerbating, or maintaining a problem
They adapted an inquiring mindset
They managed their emotions and those of others by focusing on the task at hand
They tried to adopt a more positive mindset when faced with challenges
Adopting an inquiring mindset also can help us to use other reframes. It helps us to appreciate just how complicated and messy the world is, and switching from a "judging" mindset to an inquiring one can help us avoid the blame game.
7. Create Optimal Interpersonal Boundaries
Consider managing emotions by modifying the situation by creating more rigid or more flexible boundaries around the topics people discuss or the boundaries between you and others. Leaders in the study "often established, maintained, or tightened boundaries in order to mitigate disruptive emotions. However, they also loosened boundaries, which encouraged the expression of positive emotions, to facilitate the development of better relationships with peers, employees, bosses, or clients."
8. Seek Out Others for Help in Managing Emotions
When it comes to managing emotions, the nest leaders value the help of others in the form of advice or simply sharing the emotional burden. "It turns out that seeking out and using the help of others is often the most emotionally intelligent thing that a leader can do in critical situations."
9. Help Others Develop Their Emotional Intelligence Abilities
Emotionally intelligent leaders also coach others in the management of emotions. Most often, this is done one-on-one to raise awareness with a colleague. Coaching others in this way requires control over your own emotions, sensitivity, and the ability to create an atmosphere of trust.
These nine strategies are not linear. We tend to use some strategies more than the others. You will return to strategies 1 and 3 over and over again. It is not a science but an art.
* * *


Like us on
Instagram
and
Facebook
for additional leadership and personal development ideas.
* * *


Posted by Michael McKinney at 06:10 PM
Permalink | Comments (0) | This post is about Personal Development