Leading Thoughts for July 2, 2020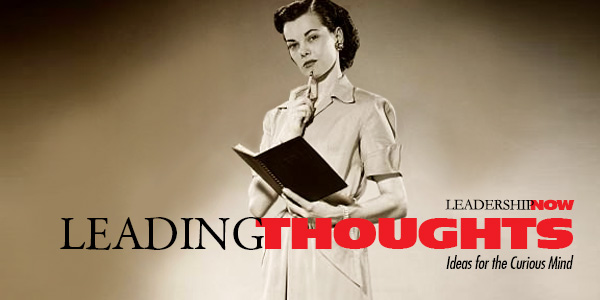 IDEAS shared have the power to expand perspectives, change thinking, and move lives. Here are two ideas for the curious mind to engage with:
I.
Two signs hanging on the wall of the Burnley Football Club training facility in Burnley, Lancashire, England:
"Only the person who isn't rowing has time to rock the boat."

"In a real team, the instinct for individual self-promotion is realized through the pursuit of the team goal."
Source: Alastair Campbell in Winners and How They Succeed
II.
Earl Nightingale on service:
"Never before in the history of the world have human beings been so interdependent. It is as impossible to live without serving others as it would be to live if others were not constantly serving us. And this is good. The more closely knit this interdependence becomes, the greater will be human achievement. We need each other, and we literally cannot live without each other. Every time we strike a match, drink a glass of water, turn on the lights, pick up the telephone, drive our car, put on our clothes, take a bath, mow the lawn, or go fishing, we're being served by other human beings. But remember this: Whatever you seek in the form of rewards, you must first earn in the form of service to others. All attempts to sidestep this law will end in failure, frustration, and ultimately, demoralization."
Source: Lead the Field
* * *
Look for these ideas every Thursday on the Leading Blog. Find more ideas on the LeadingThoughts index.
* * *


Like us on
Instagram
and
Facebook
for additional leadership and personal development ideas.
Posted by Michael McKinney at 01:13 PM
Permalink | Comments (0) | This post is about Leading Thoughts