Leading Thoughts for May 14, 2020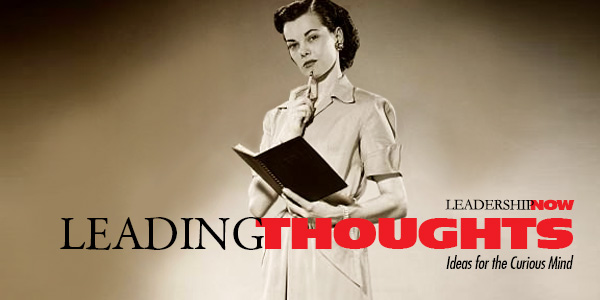 IDEAS shared have the power to expand perspectives, change thinking, and move lives. Here are two ideas for the curious mind to engage with:
I.
Kevin Kelly, the founder of WIRED magazine, recently turned 68 and offered 68 lessons on life. Here are six:
"Learn how to learn from those you disagree with or even offend you. See if you can find the truth in what they believe.

Being able to listen well is a superpower. While listening to someone you love, keep asking them, "Is there more?" until there is no more.'

The purpose of a habit is to remove that action from self-negotiation. You no longer expend energy deciding whether to do it. You just do it. Good habits can range from telling the truth to flossing.

Separate the processes of creation from improving. You can't write and edit, or sculpt and polish, or make and analyze at the same time. If you do, the editor stops the creator. While you invent, don't select. While you sketch, don't inspect. While you write the first draft, don't reflect. At the start, the creator mind must be unleashed from judgment.

If you are not falling down occasionally, you are just coasting.

Over the long term, the future is decided by optimists. To be an optimist, you don't have to ignore all the many problems we create; you just have to imagine improving our capacity to solve problems."
Source: 68 Bit of Unsolicited Advice
II.
Vogue Editor-in-Chief Anna Wintour on not comparing yourself:
"You are driven by your heart, you're driven by your talent, and you're driven by your instinct. And if you start to question and look at what people are doing to the left of you or to the right of you, you are going to lose that clarity of thought. Listen to the information. In the end it has to come from who you are. Own your decisions and own who you are but without apology."
Source: Anna Wintour MasterClass: Anna Wintour Teaches Creativity and Leadership
* * *
Look for these ideas every Thursday on the Leading Blog. Find more ideas on the LeadingThoughts index.
* * *


Like us on
Instagram
and
Facebook
for additional leadership and personal development ideas.
Posted by Michael McKinney at 11:15 AM
Permalink | Comments (0) | This post is about Leading Thoughts