Self-Made: The Story of Madam C.J. Walker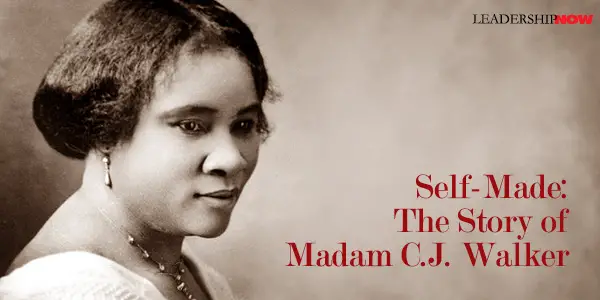 NETFLIX brings to life the entrepreneurial success story of African American entrepreneur and philanthropist Madam C.J. Walker. The four-hour mini-series Self-Made starring Oscar-winner Octavia Spencer is based on Walker's great-great-great-granddaughter A'Lelia Bundles book, On Her Own Ground: The Life and Times of Madam C.J. Walker.
Madam C.J. Walker was born Sarah Breedlove on December 23, 1867, on a plantation in Delta, Louisiana, to former slaves-turned sharecroppers after the Civil War. Her rags-to-riches story is inspiring and a testimony to hard work, persistence, and resourcefulness. Seeking a way out of her poverty, she became a washerwoman and cook. Eventually moving to Denver, Colorado, she married ad-man Charles Joseph Walker and renamed herself "Madam C.J. Walker." With $1.25, she created a line of hair products and straighteners for African American women and became one of America's first self-made female millionaires.
As her business grew, she applied her success to philanthropy giving to organizations focused on the social well-being of Black Americans. She also gave six scholarships to the Tuskegee Institute.
Walker died of kidney failure and complications due to hypertension on May 25, 1919. Her estate was valued at about ten million dollars.
While Self-Made successfully brings awareness to Walker's life and accomplishments, it is a dramatized story—facts are compromised, but the essence is there. It is a good look into the entrepreneurial mindset. If you want to know more about her life, you might start with Oprah Magazine's What Self Made Got Right—and Wrong—About Madam C.J. Walker.
Madam C.J. Walker on the business of life:
I got my start by giving myself a start.

If I have accomplished anything in life, it is because I have been willing to work hard.

Perseverance is my motto.

There is no royal flower-strewn path to success. And if there is, I have not found it.

Don't sit down and wait for the opportunities to come. Get up and make them.

I want others to look at us and see that we care not just about ourselves but about others.

Keep in mind that you have something that the person standing before you really needs, imagine yourself a missionary and convert him.

Girls and women of our race must not be afraid to take hold of business endeavor and, by patient industry, close economy, determined effort, and close application to business, wring success out of a number of business opportunities that lie at their doors.

People are ugly not in their face but in their thoughts. So never get impressed by someone's appearance, rather dig deep down into their thoughts to reveal the real person inside out.



Like us on Instagram and Facebook for additional leadership and personal development ideas.
Posted by Michael McKinney at 12:25 PM
Permalink | Comments (0) | This post is about Weekend Supplement