Leading Thoughts for April 9, 2020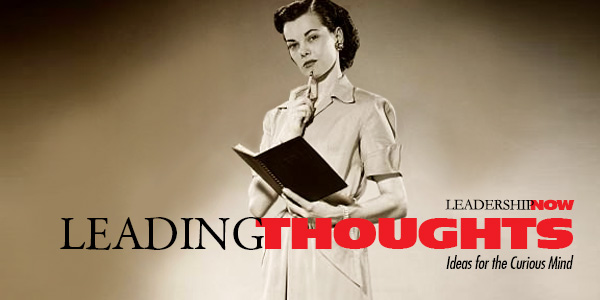 IDEAS shared have the power to expand perspectives, change thinking, and move lives. Here are two ideas for the curious mind to engage with:
I.
Management professor and social philosopher Charles Handy on the inevitability of paradox:
"We need a new way of thinking about our problems and our futures. My suggestion is the management of paradox, an idea which is itself a paradox, in that paradox can only be "managed" in the sense of coping with.

The more turbulent the times, the more complex the world, the more paradoxes there are. We can, and should, reduce the starkness of some of the contradictions, minimize the inconsistencies, understand the puzzles in the paradoxes, but we cannot make them disappear, or solve them completely, or escape from them. Paradox has to be accepted, coped with, and made sense of, in life, in work, in the community, and among nations."
Source: The Age of Paradox
II.
John Silber, former President and Chancellor of Boston University, on the role of journalists:
"Like all of us, journalists are subject to the temptations of power. Power tends to corrupt them no less than it corrupts politicians. And as the fourth estate has become vastly more powerful through television, the journalists in the electronic media should be aware of their increasing vulnerability to corruption. Many journalists come to think of themselves not so much as objective reporters but as the loyal opposition. But this is not the proper function of reporters. The adversary relationship is not a relationship of objectivity. To be in opposition may be the duty of a politician or a party, but it is a violation of the responsibility of the journalist, which is to report on what happens as objectively and as dispassionately as possible."
Source: Straight Shooting: What's Wrong with America and How to Fix It
* * *
Look for these ideas every Thursday on the Leading Blog. Find more ideas on the LeadingThoughts index.
* * *


Like us on
Instagram
and
Facebook
for additional leadership and personal development ideas.
Posted by Michael McKinney at 04:37 PM
Permalink | Comments (0) | This post is about Leading Thoughts