The Trumpet and the French Horn: Two Styles of Communication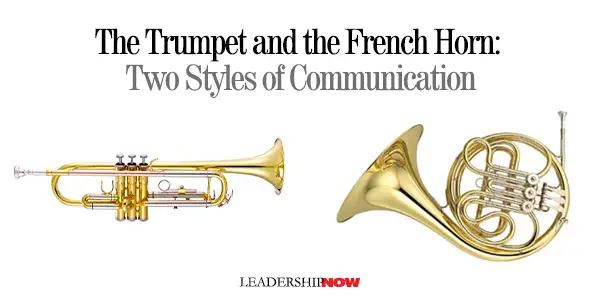 EFFECTIVE COMMUNICATION requires that we know how to best communicate with others. In other words, communicate with them the way they want to be communicated to.
Diana Peterson-More shares two ways people like to take in information in her very practical book Consequential Communication in Turbulent Times, direct and indirect.
Communication can be direct and straightforward, which often entails using the "w" words: "What do you think? What would you like me to do? What's your answer? Why should we do it that way? Why her not me? Why not do it this way?" or "Which direction should we take?"

Alternatively, communication can be indirect yet still fulsome. This often entails using the "h" word: "How might that work? How would you like me to do that?"

The trick is to figure out if the listener will respond better to the direct or the indirect method.
To illustrate this concept, she introduces trumpets and French horns:
For those who like the straightforward style of communication, let's call them trumpets. The thoughts go straight from the brain to the mouth in an immediate exhale/response. "W" questions typically work with trumpets.

For those who spend time to think before they speak, visualize the French horn. The player exhales and the breath goes around the tubing in a slow exhale/response. For the French horn players, the "w" statements can be intimidating, or at a minimum, off-putting. Try the "how" question.

Trumpeters communicating with French horn players should try to flex their style and adopt a new phraseology. Rather than state, "What do you think about this?" try a different approach: "How might this work?" "How about if we try it this way?" or "Do you have any initial thoughts on this?" Trumpet players will find that the French horn players will likely respond with an opening thought.

Likewise, French horn players who are being questioned by a trumpeter might try to flex their style and state, "My first thought is x; may I get back to you later?" or "Interesting question. I'm thinking of x and reserve the right to change with additional information." French horn players will realize that the trumpeters are often looking for preliminary thoughts or direction and are willing to allow for change after more study and information.
* * *


Like us on
Instagram
and
Facebook
for additional leadership and personal development ideas.
* * *


Posted by Michael McKinney at 10:27 AM
Permalink | Comments (0) | This post is about Communication