Remember, It Was Once Someone's Good Idea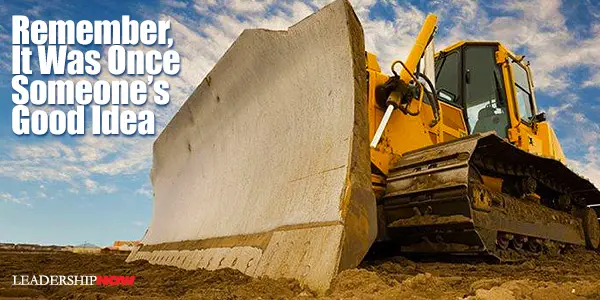 MANY, if not most good ideas are not good forever. Over time they lose the luster they once had. They become irrelevant and ineffective.
The universal danger we all face, is that we get so comfortable with what we do that never recognize that moment when it no longer serves the why. So it is good to periodically take a look at why we do what we do. But it is important to remember that they were once good ideas. Someone once fought to get the idea implemented that you are now trying to change.
When we want to change the status quo, we need to approach it from the knowledge that someone had a good reason to make the decision they made. We should honor that. If we approach it in a way that is adversarial, judgmental or dismissive, we diminish and dishonor ourselves and others.
When advocating a change, we need to be sure we are informed with the thinking behind the decisions of those that have come before us. When we do, we demonstrate that we are:
Reasonable. We see the value in taking advantage of the experience of others.
Rational. We are not seeking change for change sake.
Respectful. We value the opinions of others. It's not just about us.
People are more likely to look at your vision if they know that you have first taken the time to understand theirs. It promotes trust and creates a connection from which to lead.
* * *


Like us on
Instagram
and
Facebook
for additional leadership and personal development ideas.
Posted by Michael McKinney at 04:56 PM
Permalink | Comments (0) | This post is about Change , Communication , Problem Solving