The Future of AI: What Jack Ma and Elon Musk Are Missing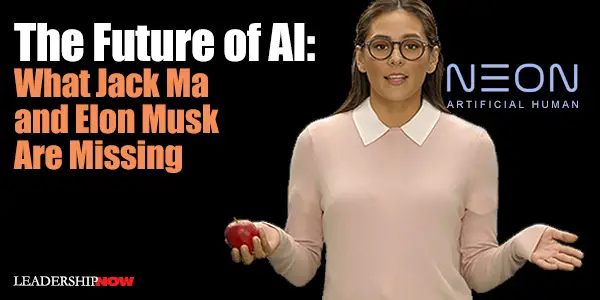 THERE IS LITTLE DOUBT that we underestimate the power of Artificial Intelligence.
AI is quickly becoming a force in nearly every facet of human life. Serial Entrepreneur and Billionaire Elon Musk warns that AI will become much smarter than the smartest human.
In a forum at the World Artificial Intelligence Conference held in China, on August 29, 2019, Elon Musk and Jack Ma exchanged differing views of the nature of AI.
"There's just a smaller and smaller corner of intellectual pursuits that humans are better than computers, and every year it gets smaller. Soon we will be far surpassed in every single way," says Musk.
Alibaba Group co-founder Jack Ma takes a different view. "When people talk about AI and say human beings will be controlled by machines—I never think that. It's impossible. My view is that a computer may be clever. A human being is much smarter. Clever is very academic is knowledge-driven. Smarter is experience-driven."
Musk quickly disagreed. "Definitely not," said Musk. "Computers are much smarter than humans on so many dimensions. The first thing you should assume is that we are very dumb and that we can definitely make things smarter than ourselves."
To which Ma responds, "Computer is only one of the collaborative tools that humans created. And computers are clever, but there will be more tools that human beings will create much cleverer than computers. "We invented the computer —I've never seen the computer invent a human being."
Ma is right: the creation is never greater than the creator. But even "clever" is not an attribute of a machine. Machines are not smart. They can access implanted memory faster and process data faster, but they are not smarter. Though they can be programmed to be and "learn" to be more lifelike, it is still artificial.
Nevertheless, Musk's concerns are warranted. Technology does outpace our ability to understand it and comprehend its consequences. Technology extends our reach, and most always, the intention is to make the world a better place. However, in every case, it is not the technology that is the issue, it is the people using it. What is always addressed too late is the character required to use it properly.
Even with the basic AI we have today, we are seeing unprecedented changes that are beyond rendering certain skills and talents obsolete — they are reshaping what it means to be human. "If you assume any rate of improvement at all, the games will be indistinguishable from reality, you will not be able to tell the difference," says Musk.
And that is happening.
At the Consumer Electronics Show this year, Samsung introduced the NEON project. Neons are like independent but virtual living beings that form memories and learn new skills, not AI assistants. Neons computationally create a "lifelike reality that is beyond normal perception to distinguish"—an artificial human.
Isaac Asimov observes, "The saddest aspect of life right now is that science gathers knowledge faster than society gathers wisdom." As AI increasingly impacts our lives, wisdom has become a fundamental leadership responsibility. It requires leaders to focus on character as a primary differentiator between man and machine.
* * *


Like us on
Instagram
and
Facebook
for additional leadership and personal development ideas.

Posted by Michael McKinney at 09:48 PM
Permalink | Comments (0) | This post is about Artificial Intelligence , Creativity & Innovation