The #1 Tactic That Will Help You Be More Productive as A Leader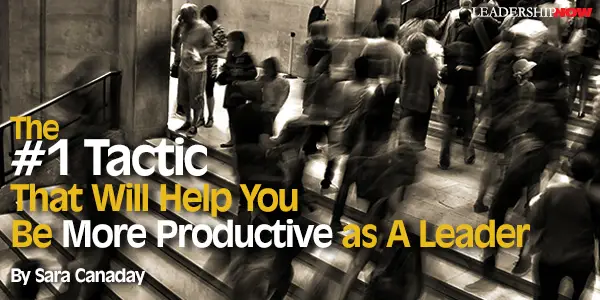 FOR THE PAST DECADE or so I have spent a lot of time in organizations getting to know their leaders and how they work. That inside look has given me a firsthand account of what they are dealing with on a daily basis. Suffice it so say, this is not your father's organization.
For example, the amount of incoming communication is staggering. The average knowledge worker in the U.S. is interrupted every 11 minutes by some form of communication. Every 11 minutes! That kind of distraction takes an unseen toll on us as leaders. Add to that the mountains of data we are generating and the inability to keep up with it, let alone make real sense of it.
Today's leaders are being asked to both do more AND think more. Is that even possible? I'm a fan of multi-tasking but this seems unreasonable. Expecting leaders to succeed in the context of a constant, act-more, think-more, produce-more world is self-defeating, at best. At worst, it could be disastrous for our projects, for our teams, and for our health.
So, how do we keep pace and, at the same time, get better as leaders.
Evolved leaders have figured out that they need to hit the pause button. Instead of making action the default for every challenge, these leaders are pairing that alternative with an opposite response. It's not about replacing action, which we know is a necessary leadership ingredient. We still need to reach our goals, meet deadlines, and produce results. This is different.
They think of it as developing a companion habit that celebrates THINKING rather than DOING. It involves a strategic pause. A "mental time-in". Space for their brains to percolate and process the mounds of the information they've been packing in.
If you want more time for big-picture-thinking and the "mental space" to envision vastly different solutions, follow these steps:
1. Make an Unbreakable Appointment with Yourself
Set time aside every day (or at least every week) to step away from the chaos and let yourself reflect and plan. To connect the dots between information in different ways and to look at challenges from a fresh angle. It can help you gain remarkable clarity and give you the mental space to finally execute on ideas you've been sidelining.
Yes, I know that will feel awkward at first. Your calendar is probably jam-packed with meetings and commitments, so it might seem unnecessarily selfish to mark off some "me time." Don't let that stop you. Consider this an unbreakable appointment with yourself.
2. Make everything you do earn its rightful place on your calendar
Why? Leaders often feel trapped by an endless treadmill of meetings and tedious paperwork and that level of chaos has likely become their new normal. Even strangely comfortable. In fact, NOT doing all of those things would somehow feel wrong. If you want to free up time to let all that you have consumed percolate, you need to take a fresh look at everything you do. Ask yourself:
• Does this meeting or task move me or my team forward?
• Does this support department or company objectives?
• Am I doing this to drive results or to make someone else comfortable?
Taking a fresh look at everything inevitably uncovers opportunities to free up time for big-picture thinking.
3. Make a "Stop Doing" List
Ironically, some leaders approach downsizing their to-do lists by…creating another list: a "Stop Doing List." This is actually an excellent mental exercise and an important step in making room for a "mental time-in". Your "Stop Doing List" might include things such as:
I will stop saying "yes" to every request without first considering its worth.
I will stop letting other people control my day and my time.
I will stop allowing interruptions that hijack my schedule.
Through the process of letting go, you can find time you never knew you had.
4. Encourage your team to pause.
As a leader, you have the power and influence to help your team members develop new habits that can make them more productive. Make sure they also have time in their schedules to stop and think. That's tricky when deadlines are tight, but the long-term benefits will be worth it. Give them the calendar space that encourages them to give it a try.
As hard as it is for us doers to believe, all the evidence says that maximum effectiveness and innovation start with…STOPPING.
Yes, it's tough to do. I admit it. We've been taught to move forward, to finish, to be relentless. We have even been handsomely rewarded for it.
But if you want your organization and your team to grow, take a strategic pause. Give yourself time and space. You, your team, and all your stakeholders will be glad you did.
* * *

Sara Canaday
is a rare blend of analytical entrepreneur and perceptive warmth. That powerful combination has increasingly made her a go-to resource for helping leaders and high-potential professionals achieve their best.
Her insights come from her real-world experience and a surprising phenomenon she noticed in her own rise up the corporate ladder: The most successful people aren't necessarily the ones with the highest IQs or best job skills. Career advancement is actually more closely linked with how people apply their knowledge and talents—their capacity to collaborate, communicate, and influence others. Sara is the author of Leadership Unchained: Defy Conventional Wisdom for Breakthrough Performance and You—According to Them. She is a sought-after leadership speaker and educator, a leadership instructor for LinkedIn Learning and is an adjunct Executive Coach with the Center for Creative Leadership.
* * *


Like us on
Instagram
and
Facebook
for additional leadership and personal development ideas.

Posted by Michael McKinney at 09:03 AM
Permalink | Comments (0) | This post is about Leadership Development