3 Ways to Boost the Effectiveness of Your Leadership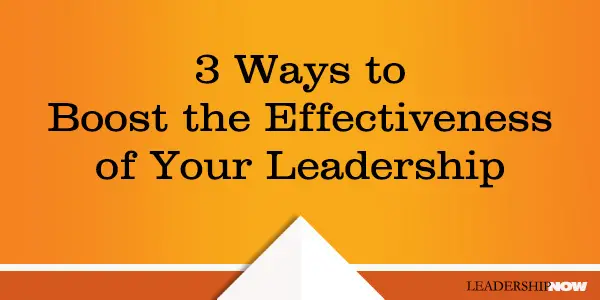 THE RESPONSIBILITIES that fall under a leadership title vary significantly at each company. Still, one thing is true for all—organizational leadership must be effective for teams to succeed. Without effective leadership in place, organizations can't achieve their goals, and employees may start looking for jobs elsewhere.
Leaders are often tasked with many projects that overload their schedules, which can prevent them from effectively leading and managing their team the way they should. There is also a noticeable gap in skills and training for leaders today. Closing the gap on leadership skills is the number one priority of 58% of companies, while only 18% feel their leaders are "very effective" at achieving business goals.
By finding a practical approach to invest your time into the right priorities, the efficiency at which you perform your role, and respect your team has for you, can improve significantly. Let's take a look at three leadership strategies you can implement today to boost the effectiveness of your leadership.
1. Become more self-aware
It's easy to fall into a rut in your position, but it's harmful to the organization and your team when your leadership is on autopilot. Blind leaders often get tunnel vision, causing them to forget what's going on around them. While it's easy to blame an individual team member for being negligent and causing a mistake, it's important not to assume you are right. Having an open and consistent dialogue is crucial. Many leaders don't account for blind leadership. Neglecting an employee by providing minimal feedback and support is an issue that lies within the management position, not the employee.
A strong leader is often characterized as someone able to identify their unique strengths while also having the courage to acknowledge their weaknesses. Self-awareness is a skill that can be learned over time through reflection. Many of the world's most successful leaders take time for self-reflection each day. If you're not aware of your own actions, you can't expect to fully understand what is happening with your team.
2. Foster an environment for employee growth
Your position as a leader goes far beyond team management. Everyone wants to move up in their career. Your team will likely turn to you for guidance in getting to the next step on their path. You must foster an environment where employee growth is encouraged.
One of the best ways to understand what your staff are looking for is to host ongoing career conversations. Inquire about your employees' goals and where they see themselves growing in the company. Knowing this can help you develop a path for their career growth together.
Delegating tasks to employees that are outside of their standard job description is another way to foster employee growth. This will help them develop new skills that can be applied to higher positions at the company when they are ready. By relinquishing control of some of your tasks through delegation, you will have more time to engage with your team. Delegation and management are often the most challenging aspects of a leadership position, but using an Enterprise Resource Planning (ERP) solution can help you manage your business processes and assign the associated tasks to the right people. ERP systems help increase efficiencies to drive better decision-making over time, allowing you to spend more time focusing on being an effective leader.
Furthermore, you should be providing and obtaining constant feedback from your team. Most employees may feel that they do not receive enough feedback, and when they do receive any, it's too vague. Companies that provide consistent feedback have been shown to have less employee turnover. When employees feel respected, they become more engaged in the success of the company and their role in that success. Because of this, it's important to motivate and inspire your employees through ongoing, regular feedback.
3. Communicate effectively and often
Leaders who do not communicate effectively regularly fail in their positions. Many may argue that communication is the most critical aspect of the job.
You can start by being an active member of the conversations that you have with each of your employees. It's easy to get distracted when you're busy balancing many tasks at once, but your employees deserve your undivided attention during meetings. Make sure you're mindful of the fact that your team members have different communication styles. Actively listening to your employees and directly asking them to specify their preferred methods of communication can be helpful ways to understand your employees better. Being able to adapt your communication style to fit your team is a tremendous step toward becoming an effective leader. Not all leaders can manage relationships with their staff effectively. Don't fall into this category!
Prioritize your goals so you can allow time in your schedule for open office hours where employees can stop by unannounced for assistance or to talk through an issue. This transparency and willingness to be present can be invaluable to your employee's trust. There will be times when you deliver an important message to your team, and they may have questions for you. Be ready to answer these questions as openly and honestly as you can and always treat everyone with respect.
* * *


Like us on
Instagram
and
Facebook
for additional leadership and personal development ideas.

Posted by Michael McKinney at 07:56 AM
Permalink | Comments (0) | This post is about General Business