Xceptional Execution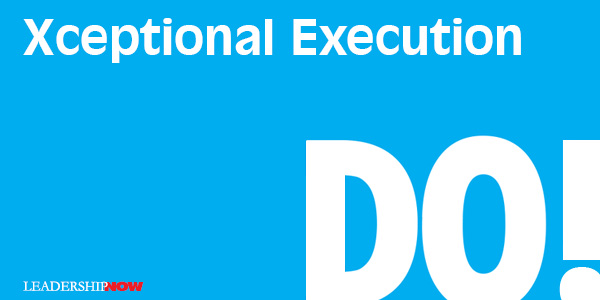 YOU DON'T need to be a guru. You don't need to be rich. You don't need to invent the next big thing to be a success. What you need to do, says Kevin Kelly is find an ordinary idea and implement that idea with xceptional execution. You can start with what you have from where you are.
The list of reasons why we shouldn't do something is often long and persuasive. We are predisposed to accept it. And so we let our ideas die. The combination of fear and knowledge is all too often lethal to our best ideas.

Kevin Kelly writes in
DO! The Pursuit of Xceptional Execution
, "the antidote for too much knowledge is execution. Why? Execution helps to work through fear and build confidence. Knowledge will always give you enough reasons not to act. Execution is taking the next step in spite of that knowledge." Have you ever seen someone doing something that you've always wanted to do even though
you
know they should know better? And yet they're doing it and you're not. Maybe it should be, "Those who know teach, those who don't do." Too much knowledge can be a dangerous thing.
This doesn't mean that we jump into something without thinking. That's unwise. Kelly says execution rests on two pillars: Awareness (Self) and Attention (Others).
Part of awareness is being able to receive negative feedback, learn from it and apply it in a way that you grow. Anyone you come into contact with is a potential teacher. Kelly says, "You will find that there are zero degrees of separation from potential teachers."
One of the things that holds us back is not that we can't solve the problem, it's that we don't see the problem. Who we are is obvious to others—our co-workers and customers. You've got to know what you are projecting to others.
The other pillar is attention. "People crave genuine, authentic, undivided attention, the side effect of which is extremely positive: loyalty, engagement and positive word-of-mouth promotion." Kelly advises that we "focus on building friendships, not customer relationships."
We don't always know exactly what to do or where we are going, but Kelly insists that the xceptional execution ethos will take you places you never imagined. Xceptional Execution = Opportunity.
Kelly talks to nine xceptionalists to understand their story—how they did what they did and how they executed in spite of the ups and downs. Throughout these examples will find mindsets and actions that resonate with your own situation. DO! will expand your mind and broaden your approach.
* * *


Like us on
Instagram
and
Facebook
for additional leadership and personal development ideas.
* * *

Posted by Michael McKinney at 04:32 PM
Permalink | Comments (0) | This post is about Management , Motivation