What a Mechanical Shark Can Teach Us About Leadership and Innovation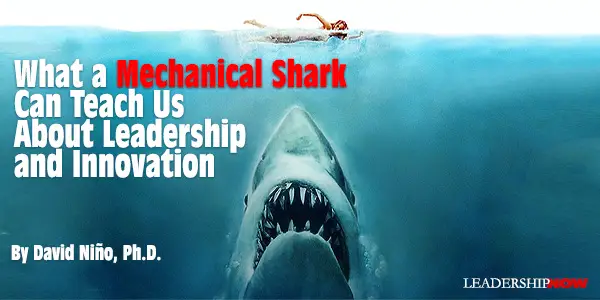 O
NE RECENT EVENING, exhausted after a long day of work, I collapsed into bed and turned on the television. On screen was the classic scene from "Jaws," where actress Susan Backlinie is stalked by the unseen aquatic predator and then pulled underneath the dark water. The scene is famous for the way it terrified audiences without ever showing the titular shark.
But this wasn't the film itself. It was a documentary on the making of the movie, all about the lengths that then 27-year-old wunderkind Steven Spielberg and his crew went to in creating a film that would define the summer blockbuster.
I soon learned that this scene – one of the best known in the entire film – isn't what Spielberg initially had in mind. In his original vision, viewers would be treated to a gory scene of the mechanical shark visibly attacking the unassuming woman. But "Bruce," the mechanical shark, kept malfunctioning, and so the director had to find another way to tell his story.
Spielberg could have insisted on the shot. After all, this was the scene he needed to "hook" the audience and keep their attention throughout the entire movie. He could have bawled out the engineers and technicians behind the mechanical prop, demanding that they somehow find a way to carry out his vision. But he didn't. Instead, he brainstormed with the talented people around him and came up with a new vision – one that was just as compelling as the original, and with the added bonus that it would actually work.
The result: One of the most memorable scenes in cinema history.
This happened over and over again during the production of "Jaws," with Spielberg and his crew forced to alter – or completely abandon – the director's original vision to adapt to conditions on the ground. They had to improvise, making up major new scenes as they hit major new problems.
As I watched the documentary, I was struck by how closely the story mirrored case studies from the business world, and how perfectly it illustrated the points I try to emphasize in the leadership and innovation class I teach at MIT. In business, we tend to mythologize innovative leaders as those who have a revolutionary vision and stick with it, no matter what. But, as Spielberg's mechanical shark illustrates, the truth is frequently far more complex.
In fact, an original, revolutionary vision isn't innovation at all (and it certainly isn't leadership). No, those fresh, once-in-a-lifetime ideas are examples of pure and raw creativity. And while these original sparks are surely important, they usually don't stand up all that well to the pressures of reality. Anyone with experience with the unforgiving discipline of new product development can testify how exceedingly rare it is for even the best of ideas to emerge from that process unscathed. Creating something new is almost never a simple matter of dreaming a thing up and then building a physical representation of that vision. Nearly always, the process is an iterative one, full of trial-and-error, with more failures than successes. In one famous example, Thomas Edison had to teach himself thousands of ways not to make a light bulb before finding a way that worked.
Innovation, then, is less about having original ideas than it is about being able to execute those ideas. It's about delivering what customers will buy or use. Friendster's founders had a creative concept, for example, but it took the minds behind Facebook to turn a similar idea into what is now one of the world's largest companies. Henry Ford didn't have the creative spirit that led to the invention of the automobile, but his innovative leadership resulted in a level of execution rarely matched in the history of manufacturing. In fact, even the assembly line was inspired by Ford's observations of the meat slaughtering process, and how workers in that industry were organized to divide up the whole animal into pieces. Similarly, Spielberg borrowed from his idol, Alfred Hitchcock, in exploiting the terror of the unknown.
One could, perhaps, cite these influences as dings against Ford's and Spielberg's creativity. But their willingness to lean on and learn from others' ideas is a large part of what makes them such innovative leaders.
If innovation is really about execution, then execution itself is really about problem-solving. Inevitably, problems pop up that stand in the way of a leader's original vision: The bulb won't light up; the customers won't buy; the mechanical shark won't work. The difference between ultimate success and failure is the ability to solve these problems. In fact, I would go a step further and say that the mark of an innovative leader is often his or her ability to redefine the problem – to see it in a new way that presents previously unseen solutions. Spielberg's genius lies in his ability to recognize that his central problem wasn't how to make a mechanical shark work, but rather how to terrify his audience.
There's a delicate balance at play here – what I sometimes call the "paradox" of leading innovation. On one hand, leaders must trust in themselves. They can't be so wishy-washy that they're willing to abandon an idea or strategy at the first hint of difficulty. But at the same time, they must be willing to surround themselves with talented people and place real trust in their teams to help them recognize problems and arrive at solutions. That's what Spielberg did, staying up late with his crew night after night, devising new shots over beer and whiskey when the original storyboards had to be trashed.
In the documentary, Spielberg said that all of the accolades and big-budget movies that came to him throughout the rest of his prolific career (one that includes directing credits on "E.T.," "Jurassic Park," and "Schindler's List") were made possible by the success of "Jaws." And that success was due to his willingness to be flexible – to modify his vision through collaboration on his way to redefining the summer blockbuster forever.
* * *

This post is by
Dr. David Niño
is a Senior Lecturer in the Gordon-MIT Engineering Leadership Program at MIT School of Engineering. He has taught leadership since 1998 at the undergraduate, masters, doctoral and executive levels. He is currently the instructor for MIT Professional Education's highly popular online course, "
Leadership & Innovation for Technology Professionals
." Dr. Niño is also a founding officer of the Leadership Development Division of the American Society of Engineering Education and consults with professionals and executives around the globe in the areas of leadership and team development.
* * *


Like us on
Instagram
and
Facebook
for additional leadership and personal development ideas.
Posted by Michael McKinney at 10:32 AM
Permalink | Comments (0) | This post is about Creativity & Innovation , Leading Forum