Hyperfocus: How to Take Control of Your Mind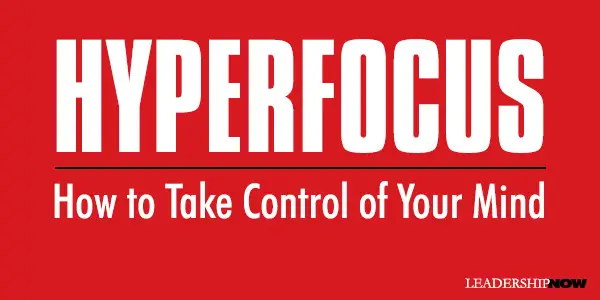 THERE ARE LIMITS to our attention. There is only so much we can focus on at any given time. So it becomes critical what we allow in our attentional space if we want to get anywhere in life. (And heads up. Your attentional space shrinks as you age—but your mind wanders less.)
When we try to cram too much into our attentional space, we experience attention overload. When we do that we forget things because we didn't leave enough space for what we originally intended to do.
What is going on in our attentional space is the subject of Chris Bailey's Hyperfocus. Bailey shows us how we can use our limited attentional space intelligently and deliberately so that we can focus more deeply and think more clearly.
Hyperfocus happens when we consciously expand our attention to fill our attentional space. It is when we are the most productive—and happy.
So, how do we enter hyperfocus mode? Distractions are distracting because they are more attractive than what we are focusing on. We have to plan in advance to remove them. Distractions are costly. Put the phone down. Don't check the emails. "It takes an average of twenty-five minutes to resume working on an activity after we're interrupted, and before resuming that activity, we work on an average of 2.26 other tasks." Not good.
Our smartphones rob our attention probably more than anything else. Bailey offers this great advice: "Resist the urge to tap around on your smartphone when you're waiting in line at the grocery store, walking to the coffee shop, or in the bathroom. Use these small breaks to reflect on what you're doing, to recharge, and to consider alternative approaches to your work and life." Reflection is one of the biggest gifts we can give ourselves.
And then we have to deal with the natural wandering of our mind by continually and consciously refocusing. It also helps to plan to hyperfocus for a predetermined length of time. "Setting specific intentions can double or triple your odds of success." Bailey has a whole chapter on taming distractions and offers techniques to help us with all of this.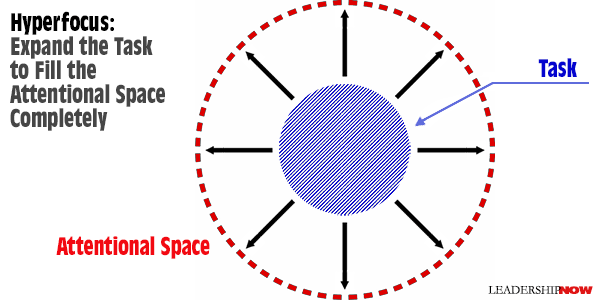 Although your attentional space naturally shrinks as you age, study after study has shown that you can expand it through the practice of meditation. "Meditation involves continually returning your focus to a single object of attention—usually your breath—as soon as you notice your mind has wandered from it." Breathing is the go-to because "the smaller the object of attention, the more your mind will wander, but the more you'll expand the size of your attentional space as you focus on it."
Ironically, as important as it is to hyperfocus, we must also scatterfocus. That is direct our attention on nothing at all—but in a deliberate way. In scatterfocus mode, we are at our most creative and it also allows us to recharge. And because in this mode our mind spends most of its time thinking about the future which is good because we can set intentions and plan for the future. It also "enables us to better weigh the consequences of each decision and path."
"With hyperfocus you direct your attention outward; with scatterfocus you direct your attention inward." In scatterfocus mode, you can capture ideas and actionable material. You can discover solutions to problems and connect ideas. It also serves to replenish our mental energy. Hyperfocus takes a lot of energy, and when we feel our attentional space contracting, we need to recharge our attention by deliberately entering scatterfocus mode.
Scatterfocus mode is a great place to connect the dots providing you are collecting valuable dots in the first place.
People become experts on particular subjects by accumulating and connecting enough dots related to them, in the form of experiences, knowledge, and best practices.

As we cluster more and more dots about a given topic, we naturally develop expertise, which in turn helps us better manage our attentional space. Curiously, the more we know about a subject, the less attentional space that information consumes.

The more dots we're able to cluster, the more efficiently we're able to use that space, as we can accommodate and process a lot more pieces of information when they're linked together.
With that in mind, it is wise to guard just what dots we are collecting on a regular basis. Some dots build us up, and some don't. Defend your attentional space. It's good to collect dots that add to our existing skills and knowledge, but it is just as important to collect dots that are unrelated to what we know. This often where new perspectives and breakthrough ideas will come from. "Every time you stop consuming trash, you make room for something useful to add value to your life."
Not surprisingly, a positive mood expands the size of our intentional space, and a negative mood shrinks it. Unhappy people take longer to refocus. Guard your thoughts.
Hyperfocus can help you get an extraordinary amount done in a relatively short period of time. Scatterfocus lets you connect ideas—which helps you unearth hidden insights, become more creative, plan for the future, and rest. Together they will enable you to work and live with purpose.
* * *


Like us on
Instagram
and
Facebook
for additional leadership and personal development ideas.
* * *

Posted by Michael McKinney at 12:25 PM
Permalink | Comments (0) | This post is about Thinking