Five Problems with Virtual Communication & What to Do About It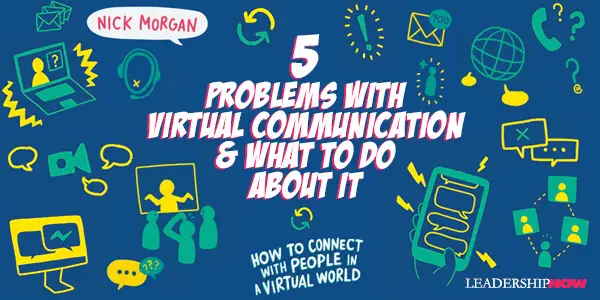 EVEN THOUGH WE have entered a new world of virtual communications, we still communicate in real-world ways that don't always work in the virtual world. We've all sent an email or a text where we meant one thing and the recipient took it in a completely different way. They never saw the smile on our face, the touch of our hand, or the look of concern. There were none of the emotions that we take for granted in the real-world to guide them in the virtual world to a proper conclusion.
We need new approaches and to become more conscious of what we are doing. We need to sharpen our communication skills in the digital world. We have to put the emotion back.
Nick Morgan is here to do just that in Can You Hear Me? Nick Morgan is a master communicator and speech coach. And this book reflects that. His website Public Words is one of my favorite. The focus is public speaking, but the principles apply in most contexts including one-on-one conversations. Don't miss it.
The world of communication in the real-world and virtual world are very different with different dynamics. The same rules don't apply. This leads to five major problems with virtual communication that need to be addressed.
Problem One: The Lack of Feedback
In the real world, there are two kinds of feedback: implicit and explicit. Implicit feedback is all of the non-verbal sounds, facial expressions, touches and body language that goes with conversation. Explicit feedback is the straightforward, unvarnished communication we get from others. In the real world, there is a mix of the two. But in the virtual world, implicit communication is almost nonexistent.
In the real world, implicit and explicit work together to toughen the soft messages and soften the harsh messages. When we remove the implicit feedback from our communication, it's little wonder we have misunderstandings, confusion, and often hurt feelings. (Emoji were introduced to help with this problem, but I find on important communications, an emoji doesn't really convey the feelings behind our words.)
Morgan says what has changed online is the nature of trust. "Trust in the virtual world is much more fragile, though perhaps easier to establish initially. But the big difference comes when something threatens the trust." He explains:
And feedback depends on trust. In face-to-face relationships where there is trust, one party may do something to screw up, causing friction, anger, and even a bit of mistrust to creep in. But if the connection is strong enough, the feedback begins. The issue will get thrashed out, the perpetrator will apologize, and trust will be restored. Indeed, once restored, the trust may be stronger than ever.

How different it is in the virtual world! Once trust is threatened, it's easily broken, and it's nearly impossible to reestablish it. People simply move on. Since trust was more fragile in the first place, it shatters with very little provocation.
Here are a few of Morgan's suggestions to offer effective feedback in a virtual world:
Virtual feedback should be appropriate and honest, but it doesn't need to be cruel. "Leaven clarity with kindness."
Virtual feedback should be specific and focused on the relevant object, performance, or creation and not on the person. "A failed artistic performance doesn't entitle you to judge the character of the performer. And general comments are far less useful—and far more damaging—than specific ones."
Virtual feedback should never be more about the giver than the recipient. We have all frequently seen where the feedback given "really concerns what the giver knows at some deep level to be the problem with his or her own work. If you're going to offer feedback, you have to have enough security, distance, and impartiality to deliver an opinion that is truly helpful."
Problem Two: The Lack of Empathy
Our virtual world robs us of real closeness and intimacy. "The distance provided by a virtual connection creates conditions where people are much more likely to behave badly to one another and are much less likely to be sympathetic to other's feelings. There's a lack of empathy."
When we are face-to-face, even the coldest of us find our mirror neurons firing when we are with someone who is experiencing an emotion. We laugh together, cry together, bond together. Put us in the virtual space, and empathy can't work as well. The mirror neurons don't fare as readily. We remain disassociated.
The key lesson regarding empathy: "If you can possibly begin a relationship of any importance in person, you should do so. Period, full stop, end of discussion." If you can't, "do everything you can, especially early on, to be consistent, trustworthy, and transparent.
In a virtual world, our stories are more important than ever. "Your online presence needs to meet four criteria: authenticity, clarity, comprehensiveness, and consistency."
Problem Three: The Lack of Control
The virtual world is unforgiving. Online, "we hold others to rigid standards of behavior and are much less forgiving. In virtual space, this double standard is particularly compelling. If you behave badly, it's because you're a troll, and your mother and her mother before you, back a thousand generations. These feelings are not logical, but such is the nature of virtual relationships. Lacking emotional depth, we substitute brittle, intellectual, standards."
We don't have control over what others say about us and others. And we rarely forgive inconsistent online behavior. So we need to be intentional about who we are and be consistent with that image. Decide now who you will be. Take control of your online life by creating a personal values statement.
As an example of the kind of transparency, control and consistency Morgan is talking about, is Chris Palmer. Palmer is an environmental filmmaker with a personal mission statement (which you can find at the bottom of this page) he published on his website. Palmer told Morgan that publishing it "has transformed my life. I use it to guide my daily activities. Instead of confusion, I have clarity. Instead of feeling overwhelmed, I feel in control. Instead of ennui, I have purpose." How do people see you online? What do you stand for? How could a personal mission statement guide your interactions online?
Problem Four: The Lack of Emotion
The emotions that come naturally in face-to-face communications is almost nonexistent in virtual communications. "Every face-to-face communication is two simultaneous conversations: the content (what you say) and the body language (how you say it)." Both are essential and very different. And when we take the emotion out we get bored, nasty or both.
We are wired to make an emotional connection with others. Emotions are a vital part of our communications, and we base our decisions on emotion. "And removing that natural, easy, unconscious emotional data stream, as virtual communication does surprisingly well, is particularly crippling."
The virtual space we've created is uniquely set up to make it difficult for us to conduct our human business in the way that we've done for thousands of years. We think we've created something convenient, cost-effective, and efficient. Instead, we've created something that this stultifying, expensive in terms of emotions and decision-making, and wildly inefficient.
Because of this, we need to consciously create tools that replace the unconscious connection tools we have in the real world. This would include becoming "exceedingly conscious about taking turns and allowing others to do so" and signaling that you are nearly ready to stop talking. Mediating conversations becomes more important. Morgan also suggests ways to add a three-stage "temperature" check to your conference calls.
Problem Five: The Lack of Connection and Commitment
Virtual communications aren't as satisfying and emotionally compelling as our real-world interactions. Take the emotions out and we feel alone. We need to create engaging approaches that combine both the virtual and real-world behavior that leads to commitment in the end.
Research Lynn Wu of Wharton found that the "more that individuals used social words in their chat with colleagues, like 'coffee,' 'lunch,' or 'football,' the less likely they were to be laid off." Of course, these online tools can be misused, so balance is required. Nevertheless, connection with others and job security are closely tied.
A few ways to create commitment in the real-world work well online. People look to others for cues, so use social validation to push people toward commitment. Remember the golden rule of reciprocity. A "strong feeling of cooperation allows people to connect, commit, and support each other." Always be consistent. Look for similarity. "Similarity builds rapport." Tell stories. "The best way to get and hold someone's attention is to tell a story."
In part two of his book, Morgan provides specific techniques for various digital channels of communication: email, texting, conference calls, webinars, chat sessions, and sales efforts. All contain helpful advice to avoid misunderstandings.
Our virtual relationships are more fragile and "these weaker ties mean we inhabit a more toxic world. The research shows that negative conversations stay with us longer than do positive ones because of how we metabolize oxytocin and cortisol differently." In the real world, we let our unconscious minds do the heavy lifting—and pick up on those implicit messages. In the virtual world, we don't have that luxury.
My journey into the online world to understand the virtual communicator has led me to understand how profoundly inhuman many ways of virtual communication are. Our very human job now is to learn to put the emotional and memorable back into this attenuated world that has sprung up around us.
* * *


Like us on
Instagram
and
Facebook
for additional leadership and personal development ideas.
* * *


Posted by Michael McKinney at 09:31 PM
Permalink | Comments (0) | This post is about Communication